General European News; »
Mon, 04 May 2015 22:41:25 GMT Europe Gives $260 Billion For Anti-EU Greece But Balks At $65 Billion For Pro ... - Forbes
Mon, 04 May 2015 16:51:47 GMT Does Europe hate Google or hate America? - Quartz
Mon, 04 May 2015 11:06:03 GMT EU army is our goal Germany's defence chief to help Europe defend its values - Daily Mail
Mon, 04 May 2015 12:59:00 GMT Greece set to lose last friend in EU as Sapin's patience runs out - Financial Times
Mon, 04 May 2015 16:58:28 GMT Europe's top carbon emitters swap 255 million UN offsets for EU permits - Reuters UK
Mon, 04 May 2015 00:14:32 GMT EU: Turkmenistan Could Supply Europe with Natural Gas by 2019 - Voice of America
Mon, 04 May 2015 14:56:31 GMT US-EU Trade Deal May Cost Europe Jobs - Sputnik International



US-EU Trade Deal May Cost Europe JobsSputnik International

The Transatlantic Trade and Investment Partnership agreement between the

EU

and US will create unemployment, rather than new jobs for the

Europeans

, according to Pierre Defraigne, Executive Director of the Madariaga, College of

Europe

Foundation in ...
Mon, 04 May 2015 13:08:10 GMT New Iron Curtain: EU Leaders to Shield Europe From 'Kremlin Propaganda' - Sputnik International
Fri, 01 May 2015 23:05:18 GMT Stephen Harper's Canada-EU trade deal sideswiped by Europe's US fears ... - Toronto Star
Mon, 04 May 2015 07:00:22 GMT Should we stay or should we go? The low-down on an EU exit - The Guardian
euronews
last updated: Tue, 05 May 2015 00:51:19 GMT
Mon, 04 May 2015 20:09:02 GMT Renzi reform to give more power Italy election winners
Italy's parliament has passed a new electoral reform championed by Prime Minister Matteo Renzi. From July 2016 the electoral system will be based on…
Mon, 04 May 2015 19:19:02 GMT France's Front National suspends founder Jean-Marie Le Pen
France's Front National party (FN) has suspended founder Jean-Marie Le Pen over inflammatory remarks amid an ongoing feud with his daughter, current…
Mon, 04 May 2015 18:43:01 GMT Constitutional court VP flees as Nkurunziza 3rd term violence escalates in Burundi
Four people were killed in Burundi on Monday (May 4) as police fired live rounds towards protesters according to AFP. More than 40 others were…
Mon, 04 May 2015 17:16:03 GMT Immigration dividing the nation ahead of UK elections
For many in Britain, the European Union's cherished principle of free movement is perhaps the most controversial. Net migration - thanks largely to…
Mon, 04 May 2015 16:33:04 GMT Texas shooting suspect sent out tweets ahead of cartoon attack
US authorities are investigating possible links between gunmen shot dead by police at an anti-Muslim event near Dallas and international terrorist…
Mon, 04 May 2015 15:59:04 GMT Israeli Prime Minister Benjamin Netanyahu meets with Ethiopian Israeli soldier Damas Pakada
Israeli Prime Minister Benjamin Netanyahu has met with Damas Pakada, the Ethiopian Israeli soldier who was seen on a close circuit video camera being…
powered by zFeeder
EU Institutions and Agencies News; »
Tue, 28 Apr 2015 12:00:00 MEST New European Agenda on Security
The Commission adopts a new European Agenda on Security 2015-2020 to support better cooperation between Member States in the fight against terrorism, organised crime and cybercrime.
Mon, 27 Apr 2015 12:00:00 MEST EU and Ukraine leaders discuss reform and EU assistance
Presidents Juncker and Tusk are in Kyiv for the 17th EU-Ukraine Summit – the first under the Juncker Commission. They will discuss reform, the EU's assistance to Ukraine, the crisis in eastern Ukraine and more.
Fri, 24 Apr 2015 12:00:00 MEST EU leaders agree actions to tackle Mediterranean tragedy
EU leaders held a special meeting on the situation in the Mediterranean and committed to step up both resources and financing to stem the dramatic loss of life.
Wed, 22 Apr 2015 12:00:00 MEST Commission reviews GMOs, meets African Union, sends Statement of Objections to Gazprom
The Commission plans to give member states more freedom on GMOs. Separately the College also met with the African Union Commission and sent a Statement of Objections to Gazprom.
Wed, 15 Apr 2015 12:00:00 MEST Commission opens Google antitrust proceedings
The Commission has sent a Statement of Objections to Google on its comparison shopping service and has opened a separate formal investigation into Android. The College also welcomed His Majesty Felipe VI, King of Spain.
Tue, 31 Mar 2015 12:00:00 MEST EU continues its strong support for the victims of Syria's crisis
The EU significantly increased its funding in response to the Syria crisis at today's Third International Pledging Conference for Syria in Kuwait. Together, the European Commission and Member States pledged close to €1.1 billion.
Thu, 26 Mar 2015 12:00:00 MET End of dairy quotas: a challenge and opportunity for the EU
31 March 2015 marks the end of the EU's dairy quotas. In the context of a reformed Common Agriculture Policy this provides EU producers with more flexibility to respond to growing demand, especially on the world market and create more jobs.
Wed, 25 Mar 2015 12:00:00 MET Digital Single Market: Commission agrees areas for action
Digital technology is part of everyday life – yet many barriers remain to using it. Today the Commission discussed the Digital Single Market Strategy due for adoption in May and set out the main areas of its work.
Fri, 20 Mar 2015 12:00:00 MET EU and US Joint Statement on Public Services
Following a meeting today in Brussels, during which they took stock of the ongoing negotiations on a Transatlantic Trade and Investment Partnership (TTIP), EU Commissioner for Trade Cecilia Malmström and US Trade Representative Michael Froman issued a joint statement on public services in trade agreements.
Fri, 20 Mar 2015 12:00:00 MET Results of the European Council
EU leaders met in Brussels on 19 and 20 March. They focused on the major strategic challenges facing Europe: endorsing plans for an Energy Union, delivering growth and jobs, and dealing with instability on our borders.
Thu, 19 Mar 2015 12:00:00 MET New Joint Declaration between the EU and Greenland signed
A new Joint Declaration on the relationships between the EU and Greenland was signed by President Jean-Claude Juncker, Greenlandic Premier Kim Kielsen and Danish Prime Minister Helle Thorning-Schmidt and signals a new cycle in the relations.
Wed, 18 Mar 2015 12:00:00 MET Commission presents Tax Transparency Package and welcomes French Prime Minister Valls
The Commission presented a package of tax transparency measures as part of its ambitious agenda to tackle corporate tax avoidance in the EU. During its weekly meeting the College of Commissioners also welcomed French Prime Minister Manuel Valls.
Wed, 11 Mar 2015 12:00:00 MET Commission calls for determined action ahead of the European Council
President Juncker and First Vice-President Timmermans presented the Commission's views on Energy Union, economic governance, investment, TTIP and the situation in Ukraine and Libya ahead of the March European Council in the European Parliament.
Wed, 11 Mar 2015 12:00:00 MET European Day of Remembrance of Victims of Terrorism
Commissioners Avramopoulos and Jourov�� participated in an event in Brussels that brought together victims from recent and past terrorist attacks and victim associations. Together with First Vice-President Timmermans and��High Representative/Vice-President Mogherini they issued a joint statement.
Tue, 10 Mar 2015 12:00:00 MET Progress on economic policy and investment - geopolitics discussed
The College focused its weekly meeting on the latest economic and geopolitical developments while EU Finance Ministers agreed on the Regulation to set up the European Fund for Strategic Investments (EFSI) and next steps in economic governance.
Mon, 09 Mar 2015 12:00:00 MET Supporting Member States to improve their justice systems
The Commission has released the 2015 EU Justice Scoreboard, which gives an overview of the quality, independence and efficiency of the justice systems of Member States.��
Thu, 05 Mar 2015 12:00:00 MET Social dialogue in Europe: together for a new start
The Commission organises in Brussels, a High-Level Conference bringing together leaders of European and national employers' and workers' organisations in order to better address the economic and social challenges faced in Europe.
Wed, 04 Mar 2015 12:00:00 MET Connecting better the Iberian Peninsula with the EU energy market
President Jean-Claude Juncker met in Madrid with the Presidents of France and the Prime Ministers of Spain and Portugal to agree on ways to strengthen the connections of the Iberian Peninsula with the rest of the EU energy market.
Thu, 30 Apr 2015 11:00:00 +0200 Household real income per capita slightly up in both euro area and EU28
In the euro area (EA18), in real terms, household income per capita increased by 0.1% in the fourth quarter of 2014, after an increase of 0.6% in the previous quarter. Household real consumption per capita increased by 0.1% in the fourth quarter of 2014, after an increase of 0.4% in the previous quarter.
Thu, 30 Apr 2015 11:00:00 +0200 Euro area annual inflation up to 0.0%
Euro area annual inflation is expected to be 0.0% in April 2015, up from -0.1% in March, according to a flash estimate from Eurostat, the statistical office of the European Union.
Thu, 30 Apr 2015 11:00:00 +0200 Euro area unemployment rate at 11.3%
The euro area (EA19) seasonally-adjusted unemployment rate was 11.3% in March 2015, stable compared with February 2015, but down from 11.7% in March 2014. The EU28 unemployment rate was 9.8% in March 2015, stable compared with February 2015 and down from 10.4% in March 2014. These figures are published by Eurostat, the statistical office of the European Union.
Mon, 27 Apr 2015 11:00:00 +0200 Almost 10 million part-time workers in the EU would have preferred to work more
Among the 44.1 million persons in the European Union (EU) working part-time in 2014, 9.8 million were under-employed meaning they wished to work more hours and were available to do so. This corresponds to 22.2% of all part-time workers and 4.5% of total employment in the EU in 2014. The large majority of part-time workers being underemployed in the EU were women (67%)
Mon, 04 May 2015 10:18:00 UT AKARI far-infrared all-sky data released
The AKARI space telescope's far-infrared all-sky image data are now available to researchers everywhere. The new all-sky maps have four to five times better spatial resolution than conventional far-infrared all-sky images, and include data at longer wavelengths.
Fri, 01 May 2015 08:15:00 UT Cassini-Huygens Participating Scientists
Announcement of Opportunity 2015
The scientific community is invited to submit proposals for participation to the Cassini-Huygens mission through the Participating Scientists (PS) programme. This Announcement of Opportunity (AO) is issued jointly by ESA, NASA, and ASI. A brief statement of work is due on 1 June 2015; the full proposal is due on 18 August 2015.
Thu, 23 Apr 2015 09:48:00 UT Celestial fireworks celebrate Hubble's 25th anniversary [heic1509]
The glittering tapestry of young stars flaring to life in this new NASA/ESA Hubble Space Telescope image aptly resembles an exploding shell in a fireworks display. This vibrant image of the star cluster Westerlund 2 has been released to celebrate Hubble's 25th year in orbit and a quarter of a century of new discoveries, stunning images and outstanding science.
Thu, 16 Apr 2015 18:00:00 UT Giant galaxies die from the inside out - Hubble and VLT observations show that star formation shuts down in the centres of elliptical galaxies first [heic1508]
Astronomers have shown for the first time how star formation in "dead" galaxies sputtered out billions of years ago. The NASA/ESA Hubble Space Telescope and ESO's Very Large Telescope (VLT) have revealed that three billion years after the Big Bang, these galaxies still made stars on their outskirts, but no longer in their interiors. The quenching of star formation seems to have started in the cores of the galaxies and then spread to the outer parts. The results will be published in the 17 April 2015 issue of the journal Science.
Mon, 04 May 2015 00:00:00 GMT A global network for food safety
An EU-funded project has developed an online network to encourage global collaboration in research and innovation on food safety. The project's network, online information portal and research aim to improve food safety in Europe and reduce health risks.
Thu, 30 Apr 2015 00:00:00 GMT Cleaning up the marine litter that pollutes our oceans
The sea is an important resource for us all. We rely on it for much of our diet. In many cases, our livelihoods depend on it. Robust marine ecosystems are vital both for a healthy planet and also for general human wellbeing.
Wed, 29 Apr 2015 00:00:00 GMT Genetic test for more effective thrombosis treatment
EU-funded researchers have developed a DNA test to help determine the correct dose of anticoagulant medication for people at risk of thrombosis, a blood-clotting condition that affects millions worldwide. Their work is advancing the emerging field of pharmacogenetics that aims to provide patients with personalised and more effective treatment based on their genetic profile.
Tue, 28 Apr 2015 00:00:00 GMT Getting freight on the right track, from road to rail
If you've ever been stuck on the motorway in a tailback of polluting heavy goods vehicles, then you'll welcome this EU-funded project to reduce the burden of freight on the roads by moving it to rail with a new loading system. The method, which also saves rail freight companies both time and money, is already being introduced in one Italian port.
News
last updated: Sat, 04 Oct 2014 19:14:27 GMT
Thu, 28 Jun 2012 14:30:00 +0200 Nitrogen oxide emissions still a major problem in Europe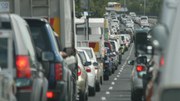 Air pollution emitted from sources such as traffic, industry and households is still above internationally agreed limits in many European countries, according to data published today. The accompanying report from the European Environment Agency (EEA) confirms an initial assessment published earlier this year, showing 12 EU Member States exceeded limits under the National Emissions Ceilings (NEC) Directive in 2010.
Wed, 27 Jun 2012 10:05:00 +0200 Rio+20 agreement - a modest step in the right direction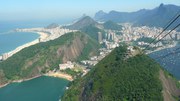 At last week's Earth Summit in Rio de Janeiro, delegates did not agree to any ambitious treaties or deadlines for dealing with pressing issues such as climate change, food and water scarcity. However, there were many positive signs for the future global environment.
Wed, 20 Jun 2012 11:45:00 +0200 New cars sold in 2011 were 3.3 % more fuel efficient than those sold in 2010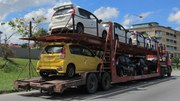 Europeans are buying cars that are more efficient. Average carbon dioxide emissions per kilometre continue to fall in Europe, according to preliminary figures released today. The 2011 data from the European Environment Agency (EEA) also show that car manufacturers are mostly on track to meeting European Union (EU) targets.
Mon, 18 Jun 2012 15:00:00 +0200 Rio+20 – time to rethink the way we use natural resources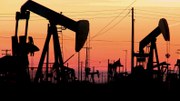 This week the Rio de Janeiro summit on sustainable development will open. Rio+20 is an opportunity to look back at changes in our environment since the first Earth Summit in 1992, and also a time to look to the future, re-evaluating the way our economies and our societies depend on the environment and natural resources.
powered by zFeeder