General European News; »
Tue, 26 Apr 2016 18:04:32 GMT EUROPE >Turkey visa deal only once 'all criteria met': EU - Hurriyet Daily News
Fri, 29 Apr 2016 23:14:30 GMT Mobile phone roaming charges cut within EU - BBC News
Sat, 30 Apr 2016 13:20:09 GMT AB InBev offers more SAB Europe assets to win EU deal approval - Business Insider
Sat, 30 Apr 2016 22:04:38 GMT REVEALED: Inside the 76-page guide handed to migrants to evade borders through EU - Express.co.uk
Thu, 28 Apr 2016 14:03:05 GMT EU Commissioner Andriukaitis: EFSA's scientific advice highly valued in Europe and across the world - EU News
Fri, 22 Apr 2016 17:00:32 GMT Obama to UK: Don't leave the EU - CNN
Wed, 27 Apr 2016 09:01:44 GMT European Commission - EUROSTAT - EU News



European Commission - EUROSTATEU News

The share of persons aged 30 to 34 in the

European Union

(EU) who have completed tertiary education has constantly increased, from 23.6% in 2002 when the series started to 38.7% in 2015. This pattern was even more significant for women (from 24.5% in ...

and more »
Thu, 28 Apr 2016 07:04:05 GMT Brexit and the myth of European security: Would the UK leaving the EU really undermine Western safety? - Telegraph.co.uk
Mon, 25 Apr 2016 09:34:16 GMT EU referendum: Boris Johnson claims elites 'want to remain in Europe to keep hold of power' - The Independent
Mon, 25 Apr 2016 17:14:39 GMT Theresa May: UK should quit European Convention on Human Rights - BBC News
euronews
last updated: Sun, 01 May 2016 11:02:34 GMT
Fri, 15 Apr 2016 13:30:12 GMT Iraq PM warns political crisis could harm fight against ISIL
Iraq's Prime Minister has warned that a political crisis gripping the country could harm the war against ISIL militants. Grappling to retain…



Fri, 15 Apr 2016 11:38:51 GMT G5 unites to tackle tax evasion
The UK, France, Germany, Spain and Italy are to unite to tackle tax evasion in the wake of the Panama Papers revelations. Europe's top five…



Fri, 15 Apr 2016 10:52:27 GMT Belgium's transport minister quits amid accusations over Brussels Airport security
Belgium's Transport Minister has resigned amid a row over airport security. Jacqueline Galant quit over claims she neglected EU reports that…



Fri, 15 Apr 2016 10:34:34 GMT The aftermath of Japan's deadly earthquake
Flattened houses and rubble were scattered in southern Japan on Friday, a day after a magnitude 6.5 earthquake hit, killing at least nine…



Fri, 15 Apr 2016 10:30:31 GMT FYROM: early election to be held on June 5
The Former Yugoslav Republic of Macedonia has announced an early parliamentary election is to be held on June 5. The decision follows months of…



Fri, 15 Apr 2016 09:28:50 GMT FYROM: early election to be held on June 5
The Former Yugoslav Republic of Macedonia has announced an early parliamentary election is to be held on June 5. The decision follows months of…



powered by zFeeder
EU Institutions and Agencies News; »
Wed, 27 Apr 2016 12:00:00 CEST A new integrated EU policy for the Arctic
The High Representative and the Commission set out a response to the challenges of the Arctic region focusing on climate change, environmental protection, sustainable development and international cooperation. The Commission also discussed the implementation of the EU-Turkey Statement.
Wed, 20 Apr 2016 12:00:00 CEST Commission paves the way towards a Security Union and reports on EU-Turkey Agreement
The College proposes to achieve an operational and effective EU Security Union and assesses progress on the implementation of the EU-Turkey Agreement. It also proposes visa-free travel for citizens of Ukraine.
Tue, 19 Apr 2016 12:00:00 CEST Commission invests in digital future of European industry
The Commission today launched a package of measures that will help European industry, SMEs, researchers and public authorities to take full advantage of new digital technologies.
Sat, 16 Apr 2016 12:00:00 CEST EU visit to Iran: cooperation envisaged in various sectors
An EU high-level delegation led by High Representative/Vice-President Federica Mogherini visited Iran and agreed with the Iranian counterparts to promote cooperation in different sectors.
Fri, 15 Apr 2016 12:00:00 CEST Major campaign launched to promote sustainable work and healthy ageing
Τhe Commission and the European Agency for Safety and Health at Work in cooperation with the Dutch EU Presidency launched a major Europe-wide campaign: Healthy Workplaces for All Ages. It promotes sustainable work and workplace safety and health in the context of the ageing workforce.
Wed, 13 Apr 2016 12:00:00 CEST President Juncker: 'Europe needs a genuine security union'
On 12 and 13 April Jean-Claude Juncker, President of the European Commission, delivered two speeches before the European Parliament, the first relating to the attacks in Brussels and the second on the conclusions of the March European Council.
Tue, 12 Apr 2016 12:00:00 CEST Commission proposes public tax transparency rules for multinationals
The College proposes to introduce public reporting requirements for the largest companies operating in the EU and in tax havens. It also assesses progress by Greece to address deficiencies at external borders and discusses way forward on visa reciprocity.
Fri, 08 Apr 2016 12:00:00 CEST European Commission and African Union Commission conclude 8th College-to-College Meeting
The European Commission and the African Union Commission concluded the 8th College-to-College meeting in Addis Ababa, Ethiopia on 7 April 2016. They agreed a Joint Communiqué setting out key areas of cooperation and common challenges.
Thu, 07 Apr 2016 12:00:00 CEST Modernising Value-Added Tax (VAT) in the EU
The European Commission has presented an Action Plan setting out ways to reboot the current EU VAT system in order to tackle fraud, support business and help the digital economy and e-commerce. The aim is to make the system simpler, support the Single Market and facilitate cross-border trade.
Wed, 06 Apr 2016 12:00:00 CEST Reforming the European Asylum System and strengthening border management and security
The Commission presents options for a fair and sustainable Common European Asylum System and sets out measures for safe and legal pathways to Europe. It also proposes a new Entry-Exit System at external borders and sets out how to counter hybrid threats.
Mon, 04 Apr 2016 12:00:00 CEST EU-Turkey Agreement: first returns and resettlements
The EU and Turkey have started replacing chaotic migratory flows by safe and legal routes to Europe for those in need of international protection. Irregular migrants start being returned from Greece to Turkey and Syrian refugees are resettled from Turkey to Europe.
Mon, 04 Apr 2016 12:00:00 CEST U-Multirank reviews more than 1,300 universities
Today the EU-funded project U-Multirank published its third and largest global ranking, helping students, teachers and employers to make the right choice about universities from more than 90 countries.
Thu, 31 Mar 2016 12:00:00 CEST EU and India give new momentum to strategic partnership
The European Union and India held their 13th Summit on 30 March in Brussels, and took steps to deepen their political and economic cooperation. International security, migration, trade and sustainable development were top of the agenda.
Wed, 23 Mar 2016 12:00:00 CET Europe unites to defeat terror
The Commission today honoured the victims of the attacks in Brussels by holding a minute's silence with the King and Queen of Belgium as well as the Belgian and French Prime Ministers. The Commission later had a working meeting with the French Prime Minister.
Sat, 19 Mar 2016 12:00:00 CET EU and Turkey agree European response to refugee crisis
EU leaders and Turkey have agreed a comprehensive plan that opens a safe and legal route to the EU for Syrian refugees while reducing irregular migration. The plan fully respects EU and international law, and comes into effect on 20 March.
Thu, 17 Mar 2016 12:00:00 CET Commission to recommend visa liberalisation for Ukraine in April
Following the meeting with European Council President Donald Tusk, and Petro Poroshenko, President of Ukraine, President Juncker announced that the European Commission will recommend visa-free travel for Ukraine in April.
Thu, 17 Mar 2016 12:00:00 CET EU leaders to confirm European response to refugee crisis
The European Council convenes on 17-18 March to reinforce its European response to the refugee crisis, and meets with the Turkish Prime Minister to finalise the agreement in principle that was reached on 7 March.
Wed, 16 Mar 2016 12:00:00 CET College discusses next steps with Turkey, relocation and resettlement
The Commission sets out the next operational steps in EU-Turkey cooperation and publishes a report on relocation and resettlement. It also outlines measures how the challenges of the EU steel sector can be addressed.
Fri, 29 Apr 2016 06:30:00 GMT Article - Dialling it down: one step closer to abolition of roaming charges
General : From tomorrow, surcharges for phone calls and data usage when you're in another EU country are capped even further, while from 15 June 2017 using your mobile phone abroad should cost the same as doing so at home. As of tomorrow non-discriminatory net neutrality rules also enter into force. Read on for more details.

Source : © European Union, 2016 - EP
Thu, 28 Apr 2016 13:37:00 GMT Press release - Europol: MEPs endorse new powers to step up EU police counter-terrorism drive - Committee on Civil Liberties, Justice and Home Affairs
The EU police agency Europol will soon be able to step up efforts to fight terrorism, cybercrime and other criminal offences and respond faster, thanks to new governance rules endorsed by Civil Liberties Committee MEPs on Thursday. The new powers come with strong data protection safeguards and democratic oversight.
Committee on Civil Liberties, Justice and Home Affairs

Source : © European Union, 2016 - EP
Fri, 29 Apr 2016 11:00:00 +0200 Euro area unemployment down to 10.2%
The euro area (EA19) seasonally-adjusted unemployment rate was 10.2% in March 2016, down from 10.4% in February 2016, and from 11.2% in March 2015. This is the lowest rate recorded in the euro area since August 2011. The EU28 unemployment rate was 8.8% in March 2016, down from 8.9% in February 2016, and from 9.7% in March 2015. This is the lowest rate recorded in the EU28 for seven years, since April 2009. These figures are published by Eurostat, the statistical office of the European Union.
Fri, 29 Apr 2016 11:00:00 +0200 Euro area annual inflation down to -0.2%
Euro area annual inflation is expected to be -0.2% in April 2016, down from 0.0% in March, according to a flash estimate from Eurostat, the statistical office of the European Union. Looking at the main components of euro area inflation, services is expected to have the highest annual rate in April (1.0%, compared with 1.4% in March), followed by food, alcohol & tobacco (0.8%, stable compared with March), non-energy industrial goods, (0.5%, stable compared with March) and energy (-8.6%, compared with -8.7% in March).
Fri, 29 Apr 2016 11:00:00 +0200 GDP up by 0.6% in the euro area and by 0.5% in the EU28
Seasonally adjusted GDP rose by 0.6% in the euro area (EA19) and by 0.5% in the EU28 during the first quarter of 2016, compared with the previous quarter, according to a preliminary flash estimate published by Eurostat, the statistical office of the European Union. In the fourth quarter of 2015, GDP grew by 0.3% in the euro area and by 0.4% in the EU28.
Thu, 28 Apr 2016 11:00:00 +0200 Unemployment rates in the EU regions ranged from 2.5% to 34.0%
More than 60% of the NUTS 2 regions of the European Union (EU) recorded a decrease of at least 0.5 percentage points in their regional unemployment rate in 2015 compared with 2014. However, regional unemployment rates continued to vary widely across the EU regions, with the lowest rates recorded in the German regions of Freiburg and Niederbayern (both 2.5%), Oberbayern and Oberpfalz (both 2.7%), followed by Praha in the Czech Republic (2.8%).
Fri, 29 Apr 2016 08:06:00 UT Call for a Medium-size mission opportunity in ESA's Science Programme (M5)
Through this Call for Missions the Director of Science solicits from the broad scientific community proposals for the competitive selection of mission concepts to be candidate for the implementation of a medium-size, or M-class, mission (M5).
Thu, 28 Apr 2016 07:52:00 UT Powerful winds spotted from mysterious X-ray binaries
ESA's XMM-Newton has discovered gas streaming away at a quarter of the speed of light from very bright X-ray binaries in two nearby galaxies.
Tue, 26 Apr 2016 10:00:00 UT Profile of a methane sea on Titan
Saturn's largest moon is covered in seas and lakes of liquid hydrocarbons – and one sea has now been found to be filled with pure methane, with a seabed covered by a sludge of organic-rich material, and possibly surrounded by wetlands.
Tue, 26 Apr 2016 08:19:00 UT Space Microscope to test universality of freefall
France's Microscope satellite, carrying a set of ESA high-tech thrusters, lifted off last night from Europe's Spaceport in Kourou, French Guiana, taking advantage of the same Soyuz launch that took the EU's Sentinel-1B into orbit.
Fri, 29 Apr 2016 00:00:00 GMT Arctic station network boosts climate change research
EU-funded project INTERACT has built a network of Arctic research stations, allowing them to coordinate and share resources more efficiently. The network aims to boost the scope and quantity of research on the Arctic, which serves as a bellwether of global changes to climate, biodiversity and land use.
Thu, 28 Apr 2016 00:00:00 GMT Supergrass: fighting climate change with riverbank plants
The grassy banks of the river Barrow in Ireland may look unproductive in agricultural terms, but to scientists involved in a European research project the land and its vegetation may hold the key to an energy revolution. The plant giving rise to such optimism is called myscanthus, a non-native species.
Thu, 28 Apr 2016 00:00:00 GMT Nuclear energy network works to improve safety
National nuclear energy authorities, operators and researchers continue to collaborate on developing better prevention and mitigation strategies for severe accidents through a network developed by the EU-funded SARNET2 project.
Wed, 27 Apr 2016 00:00:00 GMT Innovative localisation system to save lives at sea
On a sinking ship, crews need to evacuate passengers quickly - but they may have to find them first. An innovative system based on EU-funded research may soon make this task a great deal easier. On vessels fitted with this system, teams will be able to locate passengers instantly, on board and in the water.
News
last updated: Fri, 18 Dec 2015 01:22:34 GMT
Thu, 28 Jun 2012 14:30:00 +0200 Nitrogen oxide emissions still a major problem in Europe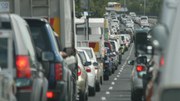 Air pollution emitted from sources such as traffic, industry and households is still above internationally agreed limits in many European countries, according to data published today. The accompanying report from the European Environment Agency (EEA) confirms an initial assessment published earlier this year, showing 12 EU Member States exceeded limits under the National Emissions Ceilings (NEC) Directive in 2010.
Wed, 27 Jun 2012 10:05:00 +0200 Rio+20 agreement - a modest step in the right direction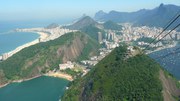 At last week's Earth Summit in Rio de Janeiro, delegates did not agree to any ambitious treaties or deadlines for dealing with pressing issues such as climate change, food and water scarcity. However, there were many positive signs for the future global environment.
Wed, 20 Jun 2012 11:45:00 +0200 New cars sold in 2011 were 3.3 % more fuel efficient than those sold in 2010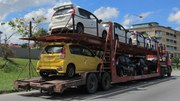 Europeans are buying cars that are more efficient. Average carbon dioxide emissions per kilometre continue to fall in Europe, according to preliminary figures released today. The 2011 data from the European Environment Agency (EEA) also show that car manufacturers are mostly on track to meeting European Union (EU) targets.
Mon, 18 Jun 2012 15:00:00 +0200 Rio+20 – time to rethink the way we use natural resources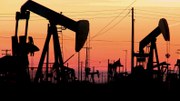 This week the Rio de Janeiro summit on sustainable development will open. Rio+20 is an opportunity to look back at changes in our environment since the first Earth Summit in 1992, and also a time to look to the future, re-evaluating the way our economies and our societies depend on the environment and natural resources.
powered by zFeeder