General European News; »
Thu, 08 Oct 2015 15:02:32 GMT Migrant crisis: EU Frontex force to help speed up deportations - BBC News
Thu, 08 Oct 2015 10:53:00 GMT Nigel Farage calls France 'a pipsqueak' in speech to EU - The Independent
Wed, 07 Oct 2015 16:19:49 GMT Merkel slams eastern Europeans on migration - Politico

Politico



Merkel slams eastern Europeans on migrationPolitico

The comments come after a turbulent month for Merkel and for the

EU

over the migration issue, with leaders criticizing her seemingly back-and-forth approach to allowing refugees to enter Germany. Eastern

European

countries have strongly opposed her ...

and more »
Wed, 07 Oct 2015 04:08:20 GMT Migrant crisis: EU to begin seizing smugglers' boats - BBC News
Tue, 06 Oct 2015 20:03:45 GMT Data Transfer Pact Between US and Europe Is Ruled Invalid - New York Times
Wed, 07 Oct 2015 10:55:42 GMT Judy Asks: Can the EU Do Business With ErdoÄŸan? - Carnegie Europe
Thu, 08 Oct 2015 16:52:47 GMT IP Expo Europe: Preparing for EU data protection regulation - SC Magazine UK
Thu, 08 Oct 2015 04:49:46 GMT Now EU says Putin's OBLITERATION of ISIS will force millions of refugees to ... - Express.co.uk
Tue, 06 Oct 2015 08:40:24 GMT Migrant benefits: Top EU lawyer backs UK on 'right to reside' - BBC News
Wed, 07 Oct 2015 04:12:26 GMT The European fallout of Putin's Syria gambit - Politico
powered by zFeeder
EU Institutions and Agencies News; »
Tue, 06 Oct 2015 12:00:00 CEST EU-Turkey: Draft Action Plan on support of refugees and migration management
President Juncker handed over to the Turkish President ErdoÄŸan a Draft Action Plan for stepping up cooperation between the EU and Turkey on support of refugees and migration management. Work is ongoing to reach agreement on the details.
Tue, 06 Oct 2015 12:00:00 CEST Internal Market, labour mobility and transatlantic data transfers discussed
The Commission held an orientation debate on the internal market and on labour mobility. It also discussed data transfers to the United States and launched a consultation on the EU's partnership with African, Caribbean and Pacific countries.
Tue, 06 Oct 2015 12:00:00 CEST Major steps towards more tax fairness and transparency
The Commission has welcomed the unanimous agreement by EU Member States on the automatic exchange of information on cross-border tax rulings and the adoption of the OECD's international tax reform package.
Fri, 02 Oct 2015 12:00:00 CEST President Juncker celebrates 25 years of German unity
On 3 October 2015, President Juncker will be in Frankfurt, Germany to participate in the official celebrations marking 25 years of German unity.
Thu, 01 Oct 2015 12:00:00 CEST First Annual Colloquium on Fundamental Rights
On 1-2 October, the European Commission hosts the first Annual Colloquium on Fundamental Rights. Discussions concentrate on how to fight antisemitism and anti-Muslim hatred in Europe and foster tolerance and respect in our societies.
Wed, 30 Sep 2015 12:00:00 CEST Capital Markets Union Action Plan and EU budget support in the refugee crisis
The European Commission today launched the Capital Markets Union Action Plan to boost business funding and investment financing. It also made proposals for additional €1.7 billion of EU funding in 2015 and 2016 to address the refugee crisis.
Tue, 29 Sep 2015 12:00:00 CEST President Juncker in Paris: Social Europe, solidarity, reforms
President Juncker attended the Conference of the European Trade Union Confederation. He defended his vision of a more social Europe characterised by greater solidarity, not least towards refugees; it was, in his words, a core requirement. He also met Manuel Valls, the French Prime Minister.
Fri, 25 Sep 2015 12:00:00 CEST European Commission welcomes UN 2030 Agenda for Sustainable Development
The new UN Agenda for Sustainable Development is adopted today in New York. It represents a true landmark achievement uniting the whole world around 17 common goals for a more sustainable future. The EU was instrumental to reach an ambitious outcome.
Thu, 24 Sep 2015 12:00:00 CEST Refugee crisis: Commission satisfied with results of summit meeting
The Commission is satisfied with the results of the informal meeting of Heads of State or Government on managing the refugee crisis and migration, asking the EU institutions and the governments to work quickly on the priority actions proposed by the Commission.
Wed, 23 Sep 2015 12:00:00 CEST Management of the refugee crisis: Commission shows the way forward
Moving forward on the management of the refugee crisis, the Commission sets out priority actions for the next six months. President Juncker will present them tonight at the extraordinary informal meeting of Heads of State and Government.
Tue, 22 Sep 2015 12:00:00 CEST President Juncker: "use budget to solve refugee crisis"
We need now, first and foremost, to use the budget to solve the refugee crisis." In a keynote speech at the high-level conference "EU Budget Focused on Results" Commission President Juncker called on the Member States to help.
Thu, 17 Sep 2015 12:00:00 CEST Commission aims at tackling long-term unemployment
Commission unveils proposal to help tackle long-term unemployment in EU with tailored support services.
Thu, 17 Sep 2015 12:00:00 CEST Refugee crisis: Commissioner Avramopoulos visits Hungary and Germany
Today, Commissioner Avramopoulos visits the Bicske asylum reception centre as part of his visit to Hungary. Later on the same day, he will be in Rosenheim (Germany) where he will look at how registration and identification procedures of refugees are being carried out on the ground.
Wed, 16 Sep 2015 12:00:00 CEST Commission proposes reform for resolving investor-to-state disputes
The Commission has presented a reform proposal for resolving disputes between investors & states in TTIP and beyond. It replaces the existing mechanism in all ongoing and future EU investment negotiations. The College also took on the refugee crisis and European Neighbourhood Policy review.
Tue, 15 Sep 2015 12:00:00 CEST Extraordinary Justice and Home Affairs Council on the refugee crisis
EU Interior Ministers offered their support for the comprehensive agenda the Commission put forth in May and September to address the refugee crisis. A first step forward as a Union on the refugee crisis has been taken.
Wed, 09 Sep 2015 12:00:00 CEST State of the Union Address by President Juncker: Time for Honesty, Unity and Solidarity
'Our European Union is not in a good state. There is not enough Europe in this Union. And there is not enough Union in this Union.' This morning, President Jean-Claude Juncker delivered his first State of the Union address before the European Parliament in Strasbourg.
Thu, 08 Oct 2015 10:00:00 UT LISA Pathfinder arrives at launch site
LISA Pathfinder, ESA's demonstrator for space-based observations of gravitational waves, has arrived at Europe's spaceport in Kourou, French Guiana, ahead of a launch currently foreseen for 2 December.
Wed, 07 Oct 2015 17:00:00 UT Mysterious ripples found racing through planet-forming disc [heic1521]
Using images from the NASA/ESA Hubble Space Telescope and ESO's Very Large Telescope, astronomers have discovered never-before-seen structures within a dusty disc surrounding a nearby star. The fast-moving wave-like features in the disc of the star AU Microscopii are unlike anything ever observed, or even predicted, before now. The origin and nature of these features present a new mystery for astronomers to explore. The results are published in the journal Nature on 8 October 2015.
Mon, 28 Sep 2015 09:11:00 UT How Rosetta's comet got its shape
Two comets collided at low speed in the early Solar System to give rise to the distinctive 'rubber duck' shape of Comet 67P/Churyumov-Gerasimenko, say Rosetta scientists.
Thu, 24 Sep 2015 14:00:00 UT Revisiting the Veil Nebula [heic1520]
The NASA/ESA Hubble Space Telescope imaged three magnificent sections of the Veil Nebula in 1997. Now, a stunning new set of images from Hubble's Wide Field Camera 3 capture these scattered stellar remains in spectacular new detail and reveal its expansion over the last years.
Thu, 08 Oct 2015 00:00:00 GMT A giant leap for gamma ray astronomy
The ability to observe very high energy gamma radiation has opened a new window on the universe, and researchers around the world are keen to seize the new opportunities it offers. As part of an EU-funded project, they have created an international alliance to move beyond current experimental instruments towards a major telescope array for this new type of observation.
Wed, 07 Oct 2015 00:00:00 GMT Wanted: true justice based on trust and legitimacy
Why do people break the law? Are the risks of punishment too low or sentences too lenient? These are the wrong questions, say European researchers studying criminal trends, attitudes towards crime, and the impact of technology and EU mobility on our justice system. Their work is set to have a profound impact on policymaking for 'trust-based' justice in Europe.
Wed, 07 Oct 2015 00:00:00 GMT Functional nanostructures for plastic - a manufacturing breakthrough
An EU-funded project has developed moulds capable of embedding nanostructures onto the surface of plastic parts. This innovation could help carmakers and other industries using plastics improve their manufacturing processes and products - boosting competitiveness.
Tue, 06 Oct 2015 00:00:00 GMT Widening gap between the rich and poor in European cities
Shrimp heads, crab carapaces, lobster shells - many billion tonnes of shellfish waste are generated globally per year. Very little of it is put to good use. This could be about to change, as EU-funded researchers have developed an innovative way to transform this briny refuse into plastic.
News
last updated: Sat, 04 Oct 2014 19:14:27 GMT
Thu, 28 Jun 2012 14:30:00 +0200 Nitrogen oxide emissions still a major problem in Europe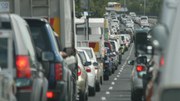 Air pollution emitted from sources such as traffic, industry and households is still above internationally agreed limits in many European countries, according to data published today. The accompanying report from the European Environment Agency (EEA) confirms an initial assessment published earlier this year, showing 12 EU Member States exceeded limits under the National Emissions Ceilings (NEC) Directive in 2010.
Wed, 27 Jun 2012 10:05:00 +0200 Rio+20 agreement - a modest step in the right direction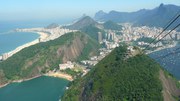 At last week's Earth Summit in Rio de Janeiro, delegates did not agree to any ambitious treaties or deadlines for dealing with pressing issues such as climate change, food and water scarcity. However, there were many positive signs for the future global environment.
Wed, 20 Jun 2012 11:45:00 +0200 New cars sold in 2011 were 3.3 % more fuel efficient than those sold in 2010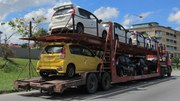 Europeans are buying cars that are more efficient. Average carbon dioxide emissions per kilometre continue to fall in Europe, according to preliminary figures released today. The 2011 data from the European Environment Agency (EEA) also show that car manufacturers are mostly on track to meeting European Union (EU) targets.
Mon, 18 Jun 2012 15:00:00 +0200 Rio+20 – time to rethink the way we use natural resources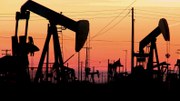 This week the Rio de Janeiro summit on sustainable development will open. Rio+20 is an opportunity to look back at changes in our environment since the first Earth Summit in 1992, and also a time to look to the future, re-evaluating the way our economies and our societies depend on the environment and natural resources.
powered by zFeeder