General European News; »
Thu, 26 Mar 2015 03:57:32 GMT UK, Central Europe Frown At Juncker's European army - Eurasia Review
Wed, 25 Mar 2015 13:05:38 GMT Digital Single Market Strategy: European Commission agrees areas for action - EU News
Wed, 25 Mar 2015 17:06:36 GMT How safe are European airlines? - CNNMoney

CNNMoney



How safe are European airlines?CNNMoney

Still, the figures show

Europe

is one of the safest places to fly. According to the most recent analysis by the

European

Aviation Safety Agency, the 28 countries that make up the

European

Union have the world's lowest rate of fatal accidents, at 1.8

...and more »
Wed, 25 Mar 2015 13:45:59 GMT Europe's Groundhog Day: Can the E.U. Break Out of 2011? - Forbes
Wed, 25 Mar 2015 00:05:33 GMT BBC coverage of European Union 'is biased and letting down viewers', MPs find - Telegraph.co.uk
Tue, 24 Mar 2015 15:41:21 GMT Facebook data privacy case opens in European court - Irish Times
Wed, 25 Mar 2015 09:36:05 GMT China wants to buy Europe, have attraction to EU cos - Economic Times



China wants to buy Europe, have attraction to EU cosEconomic Times

Chinese investors have a powerful attraction to companies in the

European

Union, and their targets are increasingly high profile. In recent days, they've shown interest in an 18-building compound on Berlin's Potsdamer Platz and in the Italian tyre

...and more »
Mon, 23 Mar 2015 17:02:31 GMT UK risks economic blow outside EU - Open Europe study - BBC News
Thu, 26 Mar 2015 14:43:21 GMT A European Pension Tracking Service Is Feasible - EU News



A European Pension Tracking Service Is FeasibleEU News

TTYPE project publishes final report for the

European

Commission with a set of recommendations and a high level design for a cross-border

European

tracking service. The TTYPE project (Track and Trace Your Pension in

Europe

) handed over its report on ...
Thu, 26 Mar 2015 06:28:19 GMT Radio Free Europe/Radio Liberty: EU criticizes Azerbaijan, notes Ukraine's ... - Kyiv Post
powered by zFeeder
EU Institutions and Agencies News; »
Wed, 25 Mar 2015 12:00:00 MET Digital Single Market: Commission agrees areas for action
Digital technology is part of everyday life – yet many barriers remain to using it. Today the Commission discussed the Digital Single Market Strategy due for adoption in May and set out the main areas of its work.
Fri, 20 Mar 2015 12:00:00 MET EU and US Joint Statement on Public Services
Following a meeting today in Brussels, during which they took stock of the ongoing negotiations on a Transatlantic Trade and Investment Partnership (TTIP), EU Commissioner for Trade Cecilia Malmström and US Trade Representative Michael Froman issued a joint statement on public services in trade agreements.
Fri, 20 Mar 2015 12:00:00 MET Results of the European Council
EU leaders met in Brussels on 19 and 20 March. They focused on the major strategic challenges facing Europe: endorsing plans for an Energy Union, delivering growth and jobs, and dealing with instability on our borders.
Thu, 19 Mar 2015 12:00:00 MET New Joint Declaration between the EU and Greenland signed
A new Joint Declaration on the relationships between the EU and Greenland was signed by President Jean-Claude Juncker, Greenlandic Premier Kim Kielsen and Danish Prime Minister Helle Thorning-Schmidt and signals a new cycle in the relations.
Wed, 18 Mar 2015 12:00:00 MET Commission presents Tax Transparency Package and welcomes French Prime Minister Valls
The Commission presented a package of tax transparency measures as part of its ambitious agenda to tackle corporate tax avoidance in the EU. During its weekly meeting the College of Commissioners also welcomed French Prime Minister Manuel Valls.
Wed, 11 Mar 2015 12:00:00 MET Commission calls for determined action ahead of the European Council
President Juncker and First Vice-President Timmermans presented the Commission's views on Energy Union, economic governance, investment, TTIP and the situation in Ukraine and Libya ahead of the March European Council in the European Parliament.
Wed, 11 Mar 2015 12:00:00 MET European Day of Remembrance of Victims of Terrorism
Commissioners Avramopoulos and Jourov�� participated in an event in Brussels that brought together victims from recent and past terrorist attacks and victim associations. Together with First Vice-President Timmermans and��High Representative/Vice-President Mogherini they issued a joint statement.
Tue, 10 Mar 2015 12:00:00 MET Progress on economic policy and investment - geopolitics discussed
The College focused its weekly meeting on the latest economic and geopolitical developments while EU Finance Ministers agreed on the Regulation to set up the European Fund for Strategic Investments (EFSI) and next steps in economic governance.
Mon, 09 Mar 2015 12:00:00 MET Supporting Member States to improve their justice systems
The Commission has released the 2015 EU Justice Scoreboard, which gives an overview of the quality, independence and efficiency of the justice systems of Member States.��
Thu, 05 Mar 2015 12:00:00 MET Social dialogue in Europe: together for a new start
The Commission organises in Brussels, a High-Level Conference bringing together leaders of European and national employers' and workers' organisations in order to better address the economic and social challenges faced in Europe.
Wed, 04 Mar 2015 12:00:00 MET Connecting better the Iberian Peninsula with the EU energy market
President Jean-Claude Juncker met in Madrid with the Presidents of France and the Prime Ministers of Spain and Portugal to agree on ways to strengthen the connections of the Iberian Peninsula with the rest of the EU energy market.
Wed, 04 Mar 2015 12:00:00 MET College debates migration and neighbourhood and receives A. Merkel
The Commission received the German Chancellor Angela Merkel. It also launched a consultation on the future of its relations with neighbouring countries and kicked off its work on a comprehensive "Agenda on Migration".
Tue, 03 Mar 2015 12:00:00 MET EU mobilises efforts to end Ebola and alleviate its impact
The ���Ebola: from emergency to recovery��� conference is taking place in Brussels under the patronage of the European Union. While international efforts have reduced the number of Ebola infections, it is critical to prevent an increase in new cases.
Tue, 03 Mar 2015 12:00:00 MET EEA reports on cleaner EU environment and challenges ahead
A new report published today by the European Environment Agency shows that a coordinated EU environment policy has delivered substantial benefits for citizens over the past 5 years.
Wed, 25 Feb 2015 12:00:00 MET Energy Union and Economic Governance
Delivering on this top priority set out in President Juncker's political guidelines, the European Commission set out its strategy to achieve a resilient Energy Union with a forward-looking climate change policy.
Thu, 19 Feb 2015 12:00:00 MET More support to Italy on coping with migratory pressure
The European Commission stepped up its assistance to Italy to deal with the current high migratory pressures in Lampedusa.
Wed, 18 Feb 2015 12:00:00 MET College debates fairer taxation and launches consultation on Capital Markets Union
The Commission launches a consultation on creating a single Capital Markets Union and looks at key actions needed to combat tax avoidance at its weekly college meeting.
Fri, 13 Feb 2015 12:00:00 MET Informal European Council: stepping up the fight against terrorism
The members of the European Council agreed to reinforce the EU's fight against terrorism and discussed Ukraine, Greece and the Economic and Monetary Union.
Tue, 10 Feb 2015 12:00:00 MET Informal European Council to focus on Security, Greece and Ukraine
President Juncker informed the College of Commissioners during its weekly meeting about his contribution to the informal European Council which will take place on Thursday 12 February and focus on the EU security agenda, Greece and Ukraine.
Thu, 05 Feb 2015 12:00:00 MET New "Global Partnership" for Poverty Eradication
The Commission has today outlined its vision on global efforts needed to eradicate poverty and boost sustainable development. It puts forward proposals on the contribution of all countries to a "Global Partnership" for the post-2015 agenda.
Thu, 26 Mar 2015 11:34:00 GMT Article - Gabrielius Landsbergis: "Sanctions against Russia are already bearing fruit"
Plenary sessions : Ukraine will benefit from €1.8 billion worth of financial assistance after MEPs approved it during plenary on 25 March. Although this constitutes the EU's largest package ever given to a non-EU country, Ukraine's troubles are far from over. We spoke to Lithuanian EPP member Gabrielius Landsbergis, who wrote the resolution on financial assistance as well as a report on EU-Russia relations, about how the money will make a difference to Ukraine and the impact of sanctions against Russia.

Source : © European Union, 2015 - EP
Thu, 26 Mar 2015 11:31:00 GMT Press release - Democracy and values are problematic in DRC, says Denis Mukwege - Subcommittee on Human Rights
Dr Denis Mukwege, the 2014 Sakharov Prize laureate, described political problems in the Democratic Republic of the Congo and his difficulties in tackling the problem of sexual abuse of women and even small children, in a Human Rights Subcommittee debate on Thursday. MEPs discussed how the EU could best support Dr Mukwege's work, and some called for legally-binding rules on trade in conflict minerals.
Subcommittee on Human Rights

Source : © European Union, 2015 - EP
Thu, 26 Mar 2015 11:00:00 +0100 Each person in the EU generated 481 kg of municipal waste in 2013
In the European Union (EU), the amount of municipal waste generated per person in 2013 amounted to 481 kg, down by 8.7% compared with its peak of 527 kg per person in 2002. Since 2007, the generation of municipal waste per person has constantly decreased in the EU to below its mid-1990s level.
Fri, 20 Mar 2015 11:00:00 +0100 EU28 current account surplus €15.8 bn
The EU28 seasonally adjusted external current account recorded a surplus of €15.8 billion in January 2015, compared with a surplus of €13.1 bn in December 2014 and a surplus of €6.4 bn in January 2014, according to estimates from Eurostat, the statistical office of the European Union.
Fri, 20 Mar 2015 11:00:00 +0100 The number of asylum applicants in the EU jumped to more than 625 000 in 2014
Over a year, the number of asylum applicants registered in the European Union (EU) has increased by 191 000 (+44%) to reach a peak of 626 000 in 2014. In particular, the number of Syrians rose by 72 000, from 50 000 in 2013 to almost 123 000 in 2014.
Thu, 19 Mar 2015 11:00:00 +0100 Annual growth in labour costs down to 1.1% in euro area
Hourly labour costs rose by 1.1% in the euro area (EA18) and by 1.4% in the EU28 in the fourth quarter of 2014, compared with the same quarter of the previous year. In the third quarter of 2014, hourly labour costs increased by 1.4% in the euro area and by 1.5% in the EU28. These figures are published by Eurostat, the statistical office of the European Union.
Thu, 26 Mar 2015 18:00:00 UT Dark matter even darker than once thought - Hubble explores the dark side of cosmic collisions [heic1506]
Astronomers using observations from the NASA/ESA Hubble Space Telescope and NASA's Chandra X-ray Observatory have studied how dark matter in clusters of galaxies behaves when the clusters collide. The results, published in the journal Science on 27 March 2015, show that dark matter interacts with itself even less than previously thought, and narrow down the options for what this mysterious substance might be.
Wed, 25 Mar 2015 18:00:00 UT How black holes clear galaxies of star-making gas
Astronomers have found proof that the strong winds blown by a supermassive black hole are dispersing the gas reservoir of its host galaxy. The new finding relies on the observation of two related phenomena in the same galaxy: a large-scale galactic outflow, seen by ESA's Herschel space observatory, and a black-hole driven wind at the galaxy's core, detected with the Japanese/US Suzaku X-ray observatory. By showing how the black hole wind is in fact driving the gas outflow that affects the entire galaxy, the discovery demonstrates the key role played by black holes in regulating the formation of stars in their host galaxies.
Thu, 19 Mar 2015 19:00:00 UT Rosetta makes first detection of molecular nitrogen at a comet
ESA's Rosetta spacecraft has made the first measurement of molecular nitrogen at a comet, providing clues about the temperature environment in which Comet 67P/Churyumov-Gerasimenko formed.
Thu, 12 Mar 2015 14:49:00 UT Symposium announcement: Exploring the Universe with JWST
The 49th ESLAB symposium will be an international meeting dedicated to the presentation and discussion of future scientific research that will be enabled by the James Webb Space Telescope. This "Exploring the Universe with JWST" symposium will be held at the European Space Agency's technical centre (ESTEC), 12-16 October 2015.
Thu, 26 Mar 2015 00:00:00 GMT How microorganisms can help hold up bridges
An eco-friendly method of preventing corrosion in major infrastructure could help reduce environmental pollution, protect maintenance workers and save Europe billions of euro in repairs.
Wed, 25 Mar 2015 00:00:00 GMT A big booster for vaccine development
An EU-funded project has accelerated the development of vaccines for diseases such as Lyme disease, malaria, tuberculosis, dengue, influenza, mumps, whooping cough, pneumonia, HIV, and two types of cancer. Their work could lead to new, more effective vaccines - potentially saving millions of people from disease.
Tue, 24 Mar 2015 00:00:00 GMT Building the planes (and maybe lowering the air fares) of the future
Intelligent, extremely tough and ultralight; these are the anticipated characteristics of the materials that will be used to build planes of the future. At Lublin University of Technology in eastern Poland, researchers are working on making those materials a reality of today.
Mon, 23 Mar 2015 00:00:00 GMT Understanding why stress can kill you
An EU-funded project has expanded our understanding of what causes high blood pressure. The results will help to treat people at risk and reduce heart disease - the number one killer in the world.
News
last updated: Sat, 04 Oct 2014 19:14:27 GMT
Thu, 28 Jun 2012 14:30:00 +0200 Nitrogen oxide emissions still a major problem in Europe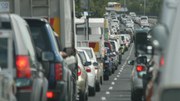 Air pollution emitted from sources such as traffic, industry and households is still above internationally agreed limits in many European countries, according to data published today. The accompanying report from the European Environment Agency (EEA) confirms an initial assessment published earlier this year, showing 12 EU Member States exceeded limits under the National Emissions Ceilings (NEC) Directive in 2010.
Wed, 27 Jun 2012 10:05:00 +0200 Rio+20 agreement - a modest step in the right direction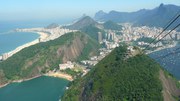 At last week's Earth Summit in Rio de Janeiro, delegates did not agree to any ambitious treaties or deadlines for dealing with pressing issues such as climate change, food and water scarcity. However, there were many positive signs for the future global environment.
Wed, 20 Jun 2012 11:45:00 +0200 New cars sold in 2011 were 3.3 % more fuel efficient than those sold in 2010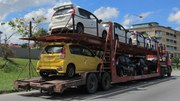 Europeans are buying cars that are more efficient. Average carbon dioxide emissions per kilometre continue to fall in Europe, according to preliminary figures released today. The 2011 data from the European Environment Agency (EEA) also show that car manufacturers are mostly on track to meeting European Union (EU) targets.
Mon, 18 Jun 2012 15:00:00 +0200 Rio+20 – time to rethink the way we use natural resources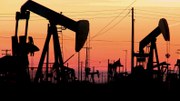 This week the Rio de Janeiro summit on sustainable development will open. Rio+20 is an opportunity to look back at changes in our environment since the first Earth Summit in 1992, and also a time to look to the future, re-evaluating the way our economies and our societies depend on the environment and natural resources.
powered by zFeeder