General European News; »
Sun, 26 Jun 2016 18:18:49 GMT Brexit: Haunted Europe - Financial Times
Fri, 24 Jun 2016 07:16:16 GMT With or Without the EU, Europe Is Still Connected - New York Times
Sun, 26 Jun 2016 14:50:05 GMT Brexit vote divides Europe's leaders as splits emerge on timing of talks - The Guardian
Sun, 26 Jun 2016 12:13:40 GMT EU referendum: Fear of populism haunts European press - BBC News
Sun, 26 Jun 2016 08:32:57 GMT Europe needs united army, EU parliament committee head urges after Brexit - RT
Sat, 25 Jun 2016 19:34:56 GMT More countries could follow UK out of the EU, says German finance ministry, as European leaders warn radical reform ... - Telegraph.co.uk
Sat, 25 Jun 2016 18:25:58 GMT Many Point to Racist Undercurrent Behind UK Vote to Leave EU - Haaretz
Fri, 24 Jun 2016 16:00:35 GMT 'A bad day for Europe': Brexit stuns EU leaders - Financial Times
Sat, 25 Jun 2016 11:48:46 GMT EU governments pile pressure on UK to leave as soon as possible - The Guardian
Fri, 24 Jun 2016 04:05:26 GMT How did UK end up voting to leave the European Union? - The Guardian
powered by zFeeder
EU Institutions and Agencies News; »
Fri, 24 Jun 2016 12:00:00 CEST Presidents of EU institutions agree statement on UK referendum
President Juncker has hosted a meeting in Brussels bringing together the Presidents of the European Parliament and European Council alongside the Dutch Prime Minister representing the Council Presidency. They published a joint statement on the UK referendum result.
Wed, 22 Jun 2016 12:00:00 CEST President Juncker in official visit to Athens
On 21 June in Athens, European Commission President, Jean-Claude Juncker, met with Greek President, Prokopis Pavlopoulos, Prime Minister, Alexis Tsipras, and New Democracy leader, Kyriakos Mitsotakis.
Wed, 22 Jun 2016 11:00:00 +0200 Apples and tomatoes were the top fruit and vegetable produced in the EU in 2015
In the European Union (EU), just over 2.3 million hectares were devoted to the production of fruit and berries and a further 2.1 million hectares to the production of vegetables. With 636 000 hectares (or 27.1% of the EU total) devoted to the production of fruit, Spain was the leading EU Member State in terms of production area of fruit in 2015, while it was Italy (420 000 hectares, or 20.2%) for vegetables.
Tue, 21 Jun 2016 11:00:00 +0200 Long-term initial maturities largely prevail among EU Member States
With slightly more than a quarter (27%) of total government debt having a term below one year, Sweden registered in 2015 the highest proportion of short-term initial maturities of debt among the Member States for which data are available. Hungary (15%), Italy and Portugal (both 14%) as well as France (11%) also recorded shares of short-term maturity debt above 10%. At the opposite end of the scale, almost all debt was made up of long-term maturities in Estonia, Poland, Bulgaria and Slovakia.
Mon, 20 Jun 2016 11:00:00 +0200 Euro area job vacancy rate up to 1.7%
The job vacancy rate in the euro area (EA19) was 1.7% in the first quarter of 2016, up from 1.6% in both the previous quarter and the first quarter of 2015, according to figures published by Eurostat, the statistical office of the European Union. The job vacancy rate in the EU28 was 1.8% in the first quarter of 2016, up from 1.7% in both the previous quarter and the first quarter of 2015.
Mon, 20 Jun 2016 11:00:00 +0200 Production in construction down by 0.2% in euro area
In April 2016 compared with March 2016, seasonally adjusted production in the construction sector fell by 0.2% in the euro area (EA19) and increased by 0.4% in the EU28, according to first estimates from Eurostat, the statistical office of the European Union. In March 2016, production in construction fell by 1.0% in the euro area and by 1.5% in the EU28.
Fri, 24 Jun 2016 07:59:00 UT LISA Pathfinder completes first operations phase
On Saturday 25 June, the LISA Technology Package (LTP) – a European payload on ESA's LISA Pathfinder – completes its nominal operations phase, passing the baton to the Disturbance Reduction System, an additional experiment provided by NASA. This won't be the last time the European experiment is run – the recently approved mission extension will see the LTP back in action for seven months starting in November this year.
Mon, 20 Jun 2016 12:13:00 UT Venus has potential – but not for water
ESA's Venus Express may have helped to explain the puzzling lack of water on Venus. The planet has a surprisingly strong electric field – the first time this has been measured at any planet – that is sufficient to deplete its upper atmosphere of oxygen, one of the components of water.
Tue, 07 Jun 2016 10:15:00 UT LISA Pathfinder exceeds expectations
ESA's LISA Pathfinder mission has demonstrated the technology needed to build a space-based gravitational wave observatory.
Thu, 02 Jun 2016 15:30:00 UT Hubble finds Universe may be expanding faster than expected [heic1611]
Astronomers have used Hubble to measure the distances to stars in nineteen galaxies more accurately than previously possible. They found that the Universe is currently expanding faster than the rate derived from measurements of the Universe shortly after the Big Bang. If confirmed, this apparent inconsistency may be an important clue to understanding three of the Universe's most elusive components: dark matter, dark energy and neutrinos.
Fri, 24 Jun 2016 11:45:00 GMT European Health Forum Gastein
This year's high-level conference will include a forum called "Reality meets Reality": Healthcare providers and professionals, citizens and policy makers recognise the need for changes in healthcare systems and, although slowly, they are consistently becoming part of everyday practice.
Fri, 24 Jun 2016 10:31:00 GMT Smart farming receives the backing of the European Parliament
The Alliance for Internet of Things Innovation (AIOTI) and especially the AIOTI working group on Smart farming and food security (WG06) welcomes the recent adoption by the European Parliament of two reports of much relevance to the mission of the group. WG06 contributed to the reports on "Enhancing innovation and economic development in future European farm management". An explicit recognition of AIOTI is included in the European Parliament's report.
News
last updated: Fri, 18 Dec 2015 01:22:34 GMT
Thu, 28 Jun 2012 14:30:00 +0200 Nitrogen oxide emissions still a major problem in Europe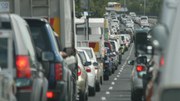 Air pollution emitted from sources such as traffic, industry and households is still above internationally agreed limits in many European countries, according to data published today. The accompanying report from the European Environment Agency (EEA) confirms an initial assessment published earlier this year, showing 12 EU Member States exceeded limits under the National Emissions Ceilings (NEC) Directive in 2010.
Wed, 27 Jun 2012 10:05:00 +0200 Rio+20 agreement - a modest step in the right direction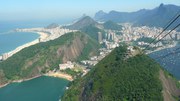 At last week's Earth Summit in Rio de Janeiro, delegates did not agree to any ambitious treaties or deadlines for dealing with pressing issues such as climate change, food and water scarcity. However, there were many positive signs for the future global environment.
Wed, 20 Jun 2012 11:45:00 +0200 New cars sold in 2011 were 3.3 % more fuel efficient than those sold in 2010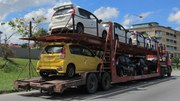 Europeans are buying cars that are more efficient. Average carbon dioxide emissions per kilometre continue to fall in Europe, according to preliminary figures released today. The 2011 data from the European Environment Agency (EEA) also show that car manufacturers are mostly on track to meeting European Union (EU) targets.
Mon, 18 Jun 2012 15:00:00 +0200 Rio+20 – time to rethink the way we use natural resources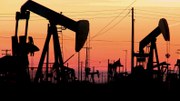 This week the Rio de Janeiro summit on sustainable development will open. Rio+20 is an opportunity to look back at changes in our environment since the first Earth Summit in 1992, and also a time to look to the future, re-evaluating the way our economies and our societies depend on the environment and natural resources.
powered by zFeeder