General European News; »
Wed, 25 Nov 2015 19:09:11 GMT Migrant crisis: France Valls warns on refugee numbers - BBC News
Wed, 25 Nov 2015 16:20:48 GMT EU Considers 'Europe-Wide CIA' After Paris Attacks - Mintpress News (blog)
Mon, 23 Nov 2015 19:26:31 GMT EU, Turkey to Discuss Ways of Slowing Migrant Flow to Europe - Wall Street Journal
Wed, 25 Nov 2015 14:21:00 GMT EU sounds alarm as internal barriers rise in refugee crisis - Reuters
Tue, 24 Nov 2015 18:55:56 GMT Bad loans at Europe banks double that of the US - Financial Times
Tue, 24 Nov 2015 14:18:32 GMT The EU CCS renaissance – what's brewing in Central Europe? - Bellona.org - Bellona
Wed, 25 Nov 2015 10:13:32 GMT If Europe is sinking, let's make sure Israel drowns first - Ynetnews
Wed, 18 Nov 2015 23:06:46 GMT Considering a Northern European Alliance - STRATFOR
Tue, 24 Nov 2015 09:40:00 GMT EU assures Pakistan on deportation of migrants from Europe - Economic Times
Tue, 24 Nov 2015 16:31:00 GMT Europe ends sharply lower after Turkey downs Russian jet - CNBC
euronews
last updated: Wed, 25 Nov 2015 23:56:20 GMT
Wed, 25 Nov 2015 21:39:17 GMT Germany will 'do more' to fight ISIL, says Merkel
German Chancellor Angela Merkel says Berlin will do more to fight ISIL. She was speaking ahead of a working dinner with the French president in…



Wed, 25 Nov 2015 20:15:35 GMT Turkey's NATO ambassador defends downing of Russian fighter jet
Tensions are running high between Ankara and Moscow after Turkey shot down a Russian fighter jet. To shed further light on the issue, euronews…



Wed, 25 Nov 2015 17:44:31 GMT No violation, no warning, a premediatated provocation growls Moscow
In Moscow Russian President Vladimir Putin slammed the Turkish government for being a supporter of ISIL terrorism, and of having imposed a programme…



Wed, 25 Nov 2015 17:42:10 GMT Russian co-pilot says his plane downed "without warning" by Turks
Further fog has risen over the downing of the Russian Sukhoi on the Syrian border, allegedly in Turkish airspace, by the Turks. The Russian co-pilot…



Wed, 25 Nov 2015 16:44:03 GMT Ukraine and Russia clash again over gas pricing
Another round in the almost annual row over gas pricing has begun between Russia and Ukraine. Russian exporter Gazprom has announced its halting…



Wed, 25 Nov 2015 16:36:34 GMT Russia envoy to EU sees 'negative impact' on Turkey ties
Russia and Turkey have been trading blows over who is to blame for the downing of a Russian jet close to the Turkish-Syrian border. Euronews spokes…



powered by zFeeder
EU Institutions and Agencies News; »
Wed, 25 Nov 2015 17:48:00 GMT Press release - MEPs call on the EU to step up cooperation with Africa after the Valletta summit
Plenary sessions : The EU must take concrete steps to tackle the migration crisis and terrorism, such as building a partnership to this end with Africa, said MEPs in Wednesday's debate with EU foreign policy chief Federica Mogherini and Nicolas Schmit, representing the Council Presidency. The debate focused on the outcomes of the EU-Africa summit in Valletta (Malta) on 11-12 November and the G20 one in Antalya (Turkey) on 15-16 November.

Source : © European Union, 2015 - EP
Wed, 25 Nov 2015 13:51:00 GMT Press release - EU needs to boost its steel industry, say MEPs
Plenary sessions : The House debated anti-dumping measures and sustainable initiatives to support the European base metals industry, including steel, with the Industry Commissioner, Elżbieta Bieńkowska, on Tuesday evening. It will vote in December on a draft resolution prepared by Edouard Martin (S&D, FR).

Source : © European Union, 2015 - EP
Mon, 23 Nov 2015 11:35:00 UT First announcement for the fourth CHEOPS Science Workshop
Mon, 23 Nov 2015 09:22:00 UT Call for Media: LISA Pathfinder launch
LISA Pathfinder, ESA's technology demonstrator for detecting gravitational-waves, is set for launch on 2 December at 04:15 GMT (05:15 CET) on a Vega rocket from Europe's Spaceport in Kourou, French Guiana. Media representatives can follow the launch online and attend the event in ESA's operations centre, ESOC, in Darmstadt, Germany.
Mon, 16 Nov 2015 18:16:00 UT Gaia data processing consortium meets ahead of first catalogue release next year
From 16 to 20 November 2015, about two hundred members of the Gaia Data Processing and Analysis Consortium (DPAC) are meeting in Leiden, The Netherlands, to review the current status of preparations for future catalogue releases from ESA's billion star surveyor mission.
Mon, 16 Nov 2015 15:52:00 UT Another Dimension: 3D visualisation redefines Milky Way's local architecture
Astronomers have used modern techniques to visualise data from ESA's Hipparcos space astrometry mission in three dimensions. The treatment of the data has offered insights into the distribution of nearby stars and uncovered new groupings of stars in the solar neighbourhood, shedding light on the origins of the stars in Orion and calling into question the existence of the Gould Belt – an iconic ring-shaped structure of stars in the Milky Way. The results show the potential of 3D visualisation of the solar neighbourhood, an approach which is of particular relevance to ESA's Gaia mission which will map the Milky Way and Local Group in 3D with unprecedented sensitivity and accuracy.
Wed, 25 Nov 2015 14:10:22 GMT LEXNET and the reduction of public exposure to electromagnetic fields (EMF)
The project LEXNET, partially funded by the European Commission between 2012 and 2015, has concentrated its efforts on the development of effective mechanisms to reduce 50%, at least, of the public exposure to electromagnetic fields (EMF) without compromising the quality of service. This project replies to the public concern about the hypothetical health risks resulting from the devices which use EMF and radiofrequency (RF).
Wed, 25 Nov 2015 13:22:00 GMT The case for formal standardization in large-scale eHealth deployment
This report, published by the EU-funded eStandards project, sets the stage for a policy dialog on the roadmap for standardization for large-scale eHealth deployment. The report notes that "there is an urgent need for standards and profiles to support large-scale eHealth deployment in a way that balances cost, quality, and access."
Wed, 25 Nov 2015 00:00:00 GMT Video games or exercise for stroke rehab?
Would you rather squeeze a ball to exercise your weaker hand or play video games? An EU-funded project tested the concept on a group of patients in Israel recovering after a stroke. The idea was unanimously popular and also saw patients working harder - without realising it - than during traditional rehabilitation exercises.
Wed, 25 Nov 2015 00:00:00 GMT Inflammation needs closure
Inflammation is not your enemy. It's a mechanism the body uses to keep us healthy, e.g. to fight invading pathogens. But sometimes, the immune system doesn't know when to stop, say EU-funded researchers. They are learning how to get the message across, in a bid to help tackle diseases caused when our tiny defenders go rogue.
Tue, 24 Nov 2015 00:00:00 GMT Fast-track to project skills for African researchers
Africa is particularly vulnerable to disease outbreaks, and the continent has large gaps in preventative healthcare. So it makes sense to build regional capacity to find solutions to these health problems. An EU-funded project trained new graduates in Africa to develop health research programmes and share scientific knowledge.
Mon, 23 Nov 2015 00:00:00 GMT Enhancing genetic testing standards across Europe
If doctors use genetic testing to assess the likelihood of patients developing a certain disease, they need to be sure that the results are accurate. In pre-natal testing, there is only one chance to get it right. An EU-funded project has vastly improved the entire testing process, ensuring patients have all the facts.
News
last updated: Sat, 04 Oct 2014 19:14:27 GMT
Thu, 28 Jun 2012 14:30:00 +0200 Nitrogen oxide emissions still a major problem in Europe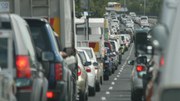 Air pollution emitted from sources such as traffic, industry and households is still above internationally agreed limits in many European countries, according to data published today. The accompanying report from the European Environment Agency (EEA) confirms an initial assessment published earlier this year, showing 12 EU Member States exceeded limits under the National Emissions Ceilings (NEC) Directive in 2010.
Wed, 27 Jun 2012 10:05:00 +0200 Rio+20 agreement - a modest step in the right direction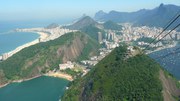 At last week's Earth Summit in Rio de Janeiro, delegates did not agree to any ambitious treaties or deadlines for dealing with pressing issues such as climate change, food and water scarcity. However, there were many positive signs for the future global environment.
Wed, 20 Jun 2012 11:45:00 +0200 New cars sold in 2011 were 3.3 % more fuel efficient than those sold in 2010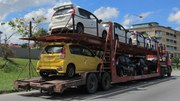 Europeans are buying cars that are more efficient. Average carbon dioxide emissions per kilometre continue to fall in Europe, according to preliminary figures released today. The 2011 data from the European Environment Agency (EEA) also show that car manufacturers are mostly on track to meeting European Union (EU) targets.
Mon, 18 Jun 2012 15:00:00 +0200 Rio+20 – time to rethink the way we use natural resources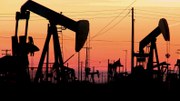 This week the Rio de Janeiro summit on sustainable development will open. Rio+20 is an opportunity to look back at changes in our environment since the first Earth Summit in 1992, and also a time to look to the future, re-evaluating the way our economies and our societies depend on the environment and natural resources.
powered by zFeeder