General European News; »
Fri, 29 Jul 2016 21:08:58 GMT Italian, Spanish and German banks SAVAGED in key test of Europe's financial institutions - Express.co.uk
Sat, 30 Jul 2016 00:58:53 GMT EU exports are a mere 12% of British economy - Daily Mail
Wed, 27 Jul 2016 11:54:11 GMT Brexit: France's Michel Barnier made European negotiator with UK - BBC News
Tue, 26 Jul 2016 10:43:25 GMT European banks prepare for possible shockwaves from stress test results - The Guardian
Mon, 25 Jul 2016 07:19:18 GMT Trump's EU jab ignores US role in Europe - POLITICO.eu

POLITICO.eu



Trump's EU jab ignores US role in EuropePOLITICO.eu

It's also a delicate time for the

European

Union: Just a month ago, the United Kingdom voted to the leave the

EU

, raising concerns about a domino effect that could politically destabilize

Europe

amid a series of terrorist attacks, a migration crisis

...
Tue, 19 Jul 2016 12:45:37 GMT Turkey won't get visa-free travel this year: EU - Hurriyet Daily News
Tue, 05 Jul 2016 09:48:52 GMT U.K.'s FTSE 100 Has Lagged Non-EU Europe Gauges Since '93: Chart - Bloomberg
Tue, 19 Jul 2016 11:28:22 GMT International Business|Price-Fixing Truck Makers Get Record EU Fine: $3.2 Billion - New York Times
Thu, 21 Jul 2016 10:31:55 GMT Germany split on EU's future as some call for a European government - The Guardian
Thu, 14 Jul 2016 16:29:51 GMT Germany's Merkel Calls for Better Ties Between Russia, EU - Haaretz
Sat, 30 Jul 2016 13:58:34 +0200 Australia: Rallies demand national inquiry into juvenile 'torture'
Hundreds rallied in Australian cities on Saturday to demand a government-ordered probe into allegations of abuse against indigenous children at a juvenile detention centre be extended into a full, nat
Sat, 30 Jul 2016 13:20:40 +0200 'Girl power' for Hillary Clinton
Female senators from Maryland, Missouri and Massachusetts are supporting Hillary Clinton after she accepted the Democrat presidential nomination.
Sat, 30 Jul 2016 12:42:36 +0200 Belgium: two brothers detained on suspicion of plotting attacks
An anti-terror operation in Belgium results in the arrests of two brothers suspected of plotting attacks in the country.
Sat, 30 Jul 2016 11:30:58 +0200 Pope Francis encourages acceptance at penultimate day of World Youth events
On the penultimate day (July 30) of the World Youth celebrations in Poland, Pope Francis addressed worshippers at the Sanctuary of Divine Mercy in the south of…
Sat, 30 Jul 2016 09:39:18 +0200 Indonesian police detain seven following temple fires
Seven people have been detained in Indonesia in connection with fires at a number of Buddhist temples in the north of Sumatra island.
Sat, 30 Jul 2016 07:53:57 +0200 Dozens wounded in further night of clashes at besieged Yerevan police station
At least 60 people have been wounded and dozens arrested in another night of clashes between riot police and demonstrators in Yerevan, the health ministry…
powered by zFeeder
EU Institutions and Agencies News; »
Fri, 29 Jul 2016 11:00:00 +0200 GDP up by 0.3% in the euro area and by 0.4% in the EU28
Seasonally adjusted GDP rose by 0.3% in the euro area (EA19) and by 0.4% in the EU28 during the second quarter of 2016, compared with the previous quarter, according to a preliminary flash estimate published by Eurostat, the statistical office of the European Union. In the first quarter of 2016, GDP grew by 0.6% in the euro area and by 0.5% in the EU28.
Fri, 29 Jul 2016 11:00:00 +0200 Euro area unemployment at 10.1%
The euro area (EA19) seasonally-adjusted unemployment rate was 10.1% in June 2016, stable compared to May 2016 and down from 11.0% in June 2015. This remains the lowest rate recorded in the euro area since July 2011. The EU28 unemployment rate was 8.6% in June 2016, stable compared to May 2016 and down from 9.5% in June 2015. This remains the lowest rate recorded in the EU28 since March 2009. These figures are published by Eurostat, the statistical office of the European Union.
Fri, 29 Jul 2016 11:00:00 +0200 Euro area annual inflation up to 0.2%
Euro area annual inflation is expected to be 0.2% in July 2016, up from 0.1% in June 2016, according to a flash estimate from Eurostat, the statistical office of the European Union.
Thu, 28 Jul 2016 11:00:00 +0200 Household real income per capita up in the euro area and in the EU28
In the euro area, in real terms, household income per capita increased by 0.9% in the first quarter of 2016, after an increase of 0.3% in the previous quarter. Household real consumption per capita increased by 0.8% in the first quarter of 2016, after an increase of 0.1% in the fourth quarter of 2015.
Thu, 28 Jul 2016 08:49:00 UT How comets are born
Detailed analysis of data collected by Rosetta show that comets are the ancient leftovers of early Solar System formation, and not younger fragments resulting from subsequent collisions between other, larger bodies.
Wed, 27 Jul 2016 17:00:00 UT White dwarf lashes red dwarf with mystery ray [heic1616]
Astronomers using the NASA/ESA Hubble Space Telescope, along with other telescopes on the ground and in space, have discovered a new type of exotic binary star: in the system AR Scorpii a rapidly spinning white dwarf star is powering electrons up to almost the speed of light. These high energy particles release blasts of radiation that lash the companion red dwarf star, and cause the entire system to pulse dramatically every 1.97 minutes with radiation ranging from the ultraviolet to radio.
Mon, 18 Jul 2016 07:43:00 UT What lies beneath: Venus' surface revealed through the clouds
Using observations from ESA's Venus Express satellite, scientists have shown for the first time how weather patterns seen in Venus' thick cloud layers are directly linked to the topography of the surface below. Rather than acting as a barrier to our observations, Venus' clouds may offer insight into what lies beneath.
Tue, 12 Jul 2016 11:43:00 UT Gravitational vortex provides new way to study matter close to a black hole
ESA's orbiting X-ray observatory, XMM-Newton, has proved the existence of a 'gravitational vortex' around a black hole. The discovery, aided by NASA's NuSTAR mission, solves a mystery that has eluded astronomers for more than 30 years and will allow them to map the behaviour of matter very close to black holes. It could also open the door to future investigations of Albert Einstein's general relativity.
Fri, 29 Jul 2016 00:00:00 GMT Virtual reality app recreates horror of Nazi concentration camp
How can virtual reality help to preserve historical heritage? A new tablet application, uses geo-localisation - as well as virtual and augmented reality - to recreate the Bergen-Belsen camp at various points in history.
Fri, 29 Jul 2016 00:00:00 GMT Updates on the ageing brain
At the supermarket, do you always know where you parked your car? Can you remember what you came to buy, if you haven't written it down? And can you do so without having to rack your brain? If so, you're lucky. Most of us occasionally struggle, and will struggle even more as we get older. EU-funded research has analysed how age affects our memory.
Thu, 28 Jul 2016 00:00:00 GMT A user-centred approach to balancing renewable energy supply and demand
As European countries grow their renewable energy capacity, grid operators need to find ways to balance supply and demand due to the variability of sun and wind. The recent trial of a smart distribution system on the Danish island of Bornholm, where more than 50 %of electricity comes from wind farms, has demonstrated an efficient and effective solution.
Wed, 27 Jul 2016 00:00:00 GMT Virtual tests for aircraft innovation safety
New materials can make aircraft greener and quieter. But how would these planes behave in an emergency water landing? An EU-funded project's experiments and computer simulation tools are contributing to better understanding of the complicated phenomena involved in developing even safer and more cost-effective designs.
News
last updated: Fri, 18 Dec 2015 01:22:34 GMT
Thu, 28 Jun 2012 14:30:00 +0200 Nitrogen oxide emissions still a major problem in Europe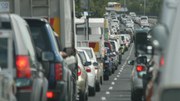 Air pollution emitted from sources such as traffic, industry and households is still above internationally agreed limits in many European countries, according to data published today. The accompanying report from the European Environment Agency (EEA) confirms an initial assessment published earlier this year, showing 12 EU Member States exceeded limits under the National Emissions Ceilings (NEC) Directive in 2010.
Wed, 27 Jun 2012 10:05:00 +0200 Rio+20 agreement - a modest step in the right direction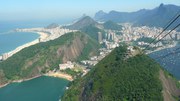 At last week's Earth Summit in Rio de Janeiro, delegates did not agree to any ambitious treaties or deadlines for dealing with pressing issues such as climate change, food and water scarcity. However, there were many positive signs for the future global environment.
Wed, 20 Jun 2012 11:45:00 +0200 New cars sold in 2011 were 3.3 % more fuel efficient than those sold in 2010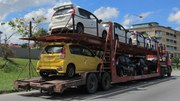 Europeans are buying cars that are more efficient. Average carbon dioxide emissions per kilometre continue to fall in Europe, according to preliminary figures released today. The 2011 data from the European Environment Agency (EEA) also show that car manufacturers are mostly on track to meeting European Union (EU) targets.
Mon, 18 Jun 2012 15:00:00 +0200 Rio+20 – time to rethink the way we use natural resources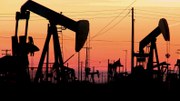 This week the Rio de Janeiro summit on sustainable development will open. Rio+20 is an opportunity to look back at changes in our environment since the first Earth Summit in 1992, and also a time to look to the future, re-evaluating the way our economies and our societies depend on the environment and natural resources.
powered by zFeeder