General European News; Ľ
Thu, 21 Aug 2014 12:43:00 GMT EU rules against powerful vacuum cleaners ban 'best' models, Which? warns - Telegraph.co.uk
Tue, 19 Aug 2014 23:07:35 GMT European Gas Reverses Biggest Drop Since 2009 on Ukraine - Bloomberg
Thu, 21 Aug 2014 13:22:15 GMT EU, ESA Fund German-Built GPS Satellites for Europe; Didier Faivre Comments - ExecutiveGov
Thu, 21 Aug 2014 16:35:43 GMT Calculating European GDP - The Economist



Calculating European GDPThe Economist

RECENT figures showing that the euro zone's recovery stalled in the second quarter were dismal. But an overhaul of

European

national accounts is due in September. This will not rewrite the narrative of a feeble and faltering recovery but it will reveal

...
Mon, 18 Aug 2014 13:12:19 GMT Europe pays farmers to destroy food hit by Russian ban - CNNMoney

CNNMoney



Europe pays farmers to destroy food hit by Russian banCNNMoney

"This is a measure aimed at reducing the level of supply so the prices don't drop to crisis levels," said

European

Commission spokesman Roger Waite. Russia hit back at the latest round of Western sanctions over Ukraine with its own year-long ban on

...
Wed, 20 Aug 2014 13:29:08 GMT Europe's Regional Airlines Lay Plans for New EU Parliament - Aviation International News
Sun, 17 Aug 2014 22:15:32 GMT Britain's Role in Europe Is to Be a Pain - Bloomberg View
Wed, 20 Aug 2014 19:49:20 GMT Westinghouse urges EU to break dependency on Russian nuclear fuel - Financial Times
Wed, 20 Aug 2014 11:36:37 GMT Why We Need A More Substantive European Democracy - Social Europe Journal



Why We Need A More Substantive European DemocracySocial Europe Journal

Are we witnessing a transition toward a post-democratic society? In an interview with EUROPP's editor Stuart Brown, Colin Crouch discusses democracy within the

EU

, the use of direct democracy in states like the UK, and the role of non-political actors

...
Tue, 19 Aug 2014 08:27:55 GMT Russia's sanctions threaten both EU farmers and policymakers - EurActiv
euronews
last updated: Fri, 22 Aug 2014 23:24:32 GMT
Fri, 22 Aug 2014 20:35:01 GMT Ukraine: controversial Russian aid cargo is unloaded in Luhansk
Russian television has broadcast pictures showing humanitarian aid being unloaded in Luhansk in eastern Ukraine. Kyiv has accused Moscow of…
Fri, 22 Aug 2014 19:54:02 GMT Gaza gunmen execute 18 'collaborators' for helping Israel
Hamas-led gunmen in Gaza have executed 18 Palestinians accused of helping the Israelis. Hooded and bound, seven of them were shot dead in front of…
Fri, 22 Aug 2014 18:39:32 GMT Russia and Ukraine blame each other after aid convoy enters Ukraine
The Ukrainian prime minister has responded to the arrival of Russian aid lorries in Ukraine, saying that Moscow must take the blame for anything that…
Fri, 22 Aug 2014 18:16:10 GMT Bardarbunga volcano in Iceland continues to rumble
==More intense seismic activity== has been reported from Iceland's Bardarbunga volcano, amid "ongoing fears that it could…
Fri, 22 Aug 2014 18:11:23 GMT Russian aid convoy arrives in Luhansk in eastern Ukraine
Russian aid trucks began arriving in the war-torn city of Luhansk in eastern Ukraine on Friday afternoon. Earlier on Friday around 100 lorries…
Fri, 22 Aug 2014 16:16:02 GMT Europe launches two more Galileo satellites
Europe's own global navigation system is a step closer with the launch of two more Galileo satellites on a Soyuz rocket from French Guiana. The…
powered by zFeeder
EU Institutions and Agencies News; Ľ
Thu, 07 Aug 2014 13:39:00 GMT Press release - ECON chairman Gualtieri wants "bolder action" for euro area - Committee on Economic and Monetary Affairs
The Governing Council of the ECB met on Thursday and decided that the interest rate on the main refinancing operations and the interest rates on the marginal lending facility and the deposit facility will remain unchanged at 0.15%, 0.40% and -0.10% respectively. Please find below the reaction of the chairman of Parliament's Economic and Monetary Affairs Committee, Roberto Gualtieri (S&D, IT):
Committee on Economic and Monetary Affairs

Source : © European Union, 2014 - EP
Mon, 04 Aug 2014 07:00:00 GMT Article - Summer reading: top five of Parliament's most popular articles
General : The quality of life in Europe today, Ukraine, a photo contest, the composition of the new Parliament and cheaper phone calls were the topics of our most-read articles of the first half of the year on the European Parliament's website. Check out our links to experience the highlights of the year so far.

Source : © European Union, 2014 - EP
Wed, 20 Aug 2014 11:00:00 +0100 Production in construction down by 0.7% in euro area
In June 2014 compared with May 2014, seasonally adjusted production in the construction sector fell by 0.7% in the euro area (EA18) and by 0.3% in the EU28, according to first estimates from Eurostat, the statistical office of the European Union. In May 2014, production in construction fell by 1.4% in both zones.
Mon, 18 Aug 2014 11:00:00 +0100 Euro area international trade in goods surplus 'ā¨16.8 bn
The first estimate for the euro area (EA18) trade in goods balance with the rest of the world in June 2014 gave a 'ā¨16.8 billion surplus, compared with +'ā¨15.7 bn in June 2013. The May 2014 balance was +'ā¨15.4 bn, compared with +'ā¨14.6 bn in May 2013. In June 2014 compared with May 2014, seasonally adjusted exports fell by 0.5% while imports rose by 0.5%.
Thu, 14 Aug 2014 11:00:00 +0100 GDP stable in the euro area and up by 0.2% in the EU28
Seasonally adjusted GDP remained stable in the euro area (EA18) and rose by 0.2% in the EU28 during the second quarter of 2014, compared with the previous quarter, according to flash estimates published by Eurostat, the statistical office of the European Union. In the first quarter of 2014, GDP grew by 0.2% in the euro area and by 0.3% in the EU28.
Thu, 14 Aug 2014 11:00:00 +0100 Euro area annual inflation down to 0.4%
Euro area annual inflation was 0.4% in July 2014, down from 0.5% in June. This is the lowest annual inflation rate since October 2009. In July 2013 the rate was 1.6%. Monthly inflation was -0.7% in July 2014.
Tue, 19 Aug 2014 12:38:00 UT Cosmic Vision:Call for a Medium-size mission opportunity in ESA's Science Programme for a launch in 2025 (M4)
Through this Call for Missions the Director of Science and Robotic Exploration solicits from the broad scientific community proposals for the competitive selection of mission concepts to be candidate for the implementation of a medium-size, or M-class, mission (M4) for launch in 2025.
Wed, 06 Aug 2014 13:34:00 UT Rosetta:Rosetta arrives at comet destination
After a decade-long journey chasing its target, ESA's Rosetta has today become the first spacecraft to rendezvous with a comet, opening a new chapter in Solar System exploration.
Fri, 01 Aug 2014 12:33:00 UT Rosetta:Rosetta takes comet's temperature
ESA's Rosetta spacecraft has made its first temperature measurements of its target comet, finding that it is too hot to be covered in ice and must instead have a dark, dusty crust.
Tue, 29 Jul 2014 12:58:00 UT Gaia:Gaia: 'Go' for science
Following extensive in-orbit commissioning and several unexpected challenges, ESA's billion-star surveyor, Gaia, is now ready to begin its science mission.
Wed, 31 Dec 2014 23:00:00 GMT2014-12-31T23:00:00Z Peer Review in Belgium: Children First 'Äď pilot local consultation platforms on child poverty
In May 2014, the Belgian government embarked on funding a year-long pilot project of local 'Äėconsultation platforms'Äô, intended to raise awareness of child poverty, provide parents with information about existing aid channels, and lend support to teachers, care providers and families alike. A study has been commissioned to determine the effectiveness of the pilot platforms. This Peer Review will enable the study'Äôs interim findings to be shared with other Member States.
Wed, 03 Dec 2014 23:00:00 GMT2014-12-03T23:00:00Z Peer Review in Austria: The political adequacy of quantitative impact assessment in the social field by means of micro-simulation models
Since July 2013, the SORESI micro-simulation model has been helping Austria's policy-makers assess the likely impact of proposed policy reforms on the country's most vulnerable social groups. This Peer Review will look at the benefits SORESI has brought so far, and its findings are also expected to contribute to a possible further refinement of the model, including its use of unemployment or economic growth figures and data on changes in the behaviour of the population.
Fri, 22 Aug 2014 00:00:00 GMT Setting common standards to boost smart metering
One of the innovations expected to help Europe reduce its energy use and cut emissions is the smart meter, which shows exactly how much gas and electricity is being used in real time. Various smart meters have been produced in recent years, but the widespread introduction of advanced metering infrastructures has been blocked by the lack of widely accepted open standards to ensure the interoperability of systems and devices.
Thu, 21 Aug 2014 00:00:00 GMT Where a tyre contacts a road-a blueprint for a better interaction
Driving could become safer, quieter and greener thanks to TYROSAFE, an EU-funded project that has completed research on road surface and tyre interactions. A follow-on project is already using the results to develop common standards across Europe for monitoring such interactions.
Wed, 20 Aug 2014 00:00:00 GMT The cross-border initiative focused on defence against diabetes
Type 1 diabetes results from abnormal activity of the body's immune system and it is on the rise in European children and adolescents. A European research project aims to find out why the cleanliness long assumed to be the best defence against this disease could actually be the cause of it.
Tue, 19 Aug 2014 00:00:00 GMT An instant, custom-fitted shoe technology for the perfect footwear
An EU-funded research project, ShopInstantShoe, has built a technology to personalise fashionable shoes for consumers using memory shape materials. The system, which can be used for any footwear, molds the size, shape and design of the shoe based on the exact size of the consumer's foot.
News
last updated: Fri, 29 Jun 2012 13:51:27 GMT
Thu, 28 Jun 2012 14:30:00 +0200 Nitrogen oxide emissions still a major problem in Europe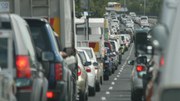 Air pollution emitted from sources such as traffic, industry and households is still above internationally agreed limits in many European countries, according to data published today. The accompanying report from the European Environment Agency (EEA) confirms an initial assessment published earlier this year, showing 12 EU Member States exceeded limits under the National Emissions Ceilings (NEC) Directive in 2010.
Wed, 27 Jun 2012 10:05:00 +0200 Rio+20 agreement - a modest step in the right direction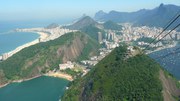 At last week's Earth Summit in Rio de Janeiro, delegates did not agree to any ambitious treaties or deadlines for dealing with pressing issues such as climate change, food and water scarcity. However, there were many positive signs for the future global environment.
Wed, 20 Jun 2012 11:45:00 +0200 New cars sold in 2011 were 3.3 % more fuel efficient than those sold in 2010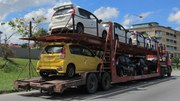 Europeans are buying cars that are more efficient. Average carbon dioxide emissions per kilometre continue to fall in Europe, according to preliminary figures released today. The 2011 data from the European Environment Agency (EEA) also show that car manufacturers are mostly on track to meeting European Union (EU) targets.
Mon, 18 Jun 2012 15:00:00 +0200 Rio+20 'Äď time to rethink the way we use natural resources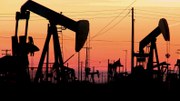 This week the Rio de Janeiro summit on sustainable development will open. Rio+20 is an opportunity to look back at changes in our environment since the first Earth Summit in 1992, and also a time to look to the future, re-evaluating the way our economies and our societies depend on the environment and natural resources.
powered by zFeeder