General European News; »
Sat, 03 Oct 2015 08:34:41 GMT IDS: Migration crisis has hit European Union 'like a bulldozer' - Telegraph.co.uk
Fri, 02 Oct 2015 10:00:50 GMT Protecting Europe's nature: more ambition needed to halt biodiversity loss by 2020 - EU News
Wed, 30 Sep 2015 00:29:06 GMT EU Leaders Trade Barbs Over Migrant Crisis - Wall Street Journal
Fri, 02 Oct 2015 13:22:48 GMT European Refugee Crisis 2015: Britain Defends Asylum Policy, Amid Criticism ... - International Business Times
Thu, 01 Oct 2015 16:52:32 GMT Irish among most tolerant in Europe, claims EU-wide survey - Irish Times
Thu, 01 Oct 2015 19:41:15 GMT Calais refugee crisis shows why we need a President of Europe, claims EU official - Express.co.uk
Thu, 01 Oct 2015 14:57:42 GMT Migrant Cap Would Violate International Law, Says EU Official - Wall Street Journal
Tue, 29 Sep 2015 13:46:03 GMT EU to Rule on European, US Data Pact Next Week - Wall Street Journal
Thu, 01 Oct 2015 14:56:50 GMT Top EU Official Warns of Rising Anti-Semitism in Europe - ABC News
Wed, 30 Sep 2015 01:19:10 GMT Urging global assistance for Syrian refugees, European Union at UN says ... - UN News Centre
euronews
last updated: Sun, 04 Oct 2015 10:44:18 GMT
Sun, 04 Oct 2015 04:13:42 GMT Catholic synod overshadowed by Church's 'homophobia'
Pope Francis presided over a vigil in St. Peter's Square on Saturday (October 3) ahead of the synod, a three-week meeting of bishops from around the…



Sun, 04 Oct 2015 03:32:15 GMT Several reported dead and missing after severe floods in southern France
It is reported at least 10 people have died and six are missing after violent storms led to severe flooding on the French Riviera. Torrents of water…



Sun, 04 Oct 2015 02:48:44 GMT No more survivors expected after Guatemala mudslide
Hopes fade of finding any remaining survivors under the rubble of a collapsed hillside on the outskirts of Guatemala City. At least 73 people have…



Sun, 04 Oct 2015 00:33:29 GMT UAE elects 20 new members to Federal National Council
Twenty new members have been elected to the United Arab Emirates (UAE) government advisory body, the Federal National Council. Each of the seven…



Sat, 03 Oct 2015 23:05:56 GMT Portugal parliamentary elections underway
Portugal is voting in parliamentary elections today (October 4). Portuguese league football matches, which are not traditionally scheduled to take…



Sat, 03 Oct 2015 21:36:56 GMT Kunduz attack may amount to war crime - UN Human Rights chief
The US military said it launched an attack around the time a Médecins Sans Frontières (MSF) charity hospital in the Afghan city of Kunduz was hit by…



powered by zFeeder
EU Institutions and Agencies News; »
Fri, 02 Oct 2015 14:34:00 GMT Article - Next week in plenary: President Hollande and Chancellor Merkel to address MEPs
Plenary sessions : French President François Hollande and German Chancellor Angela Merkel will make a historic joint appearance in the European Parliament in Strasbourg on 7 October. They will speak on topical European issues and will have a debate with political group leaders. It is the first joint address of French and German leaders since November 1989, when President François Mitrterand and Chancellor Helmut Kohl debated the end of the Cold War with MEPs. Follow our coverage live on Wednesday from 15.00 CET.

Source : © European Union, 2015 - EP
Fri, 02 Oct 2015 10:48:00 GMT Article - 25 years since German reunification: The role of the European Parliament
General : Germany celebrates on 3 October 25 years of reunification. After the Berlin wall fell in 1989, East and West Germany reuniting became an obvious next step. Parliament set up a special committee to look at the possible impact of this. "German reunification was, in a way, an informal form of enlargement of the European Union," said Elmar Brok, who was a committee member and is still an MEP today. He and other MEPs share with us their memories of this period.

Source : © European Union, 2015 - EP
Fri, 02 Oct 2015 00:00:00 GMT High-tech electronics helps the search for space life
The TeraComp project has developed a state-of-the-art 'terahertz receiver' that may help detect traces of life in space. The technology could be used in a 'sub-millimetre spectrometer' for measuring wavelengths of light during the first ESA mission to Jupiter's moons, planned for launch in 2022.
Thu, 01 Oct 2015 00:00:00 GMT Finding the genetic causes of breast cancer
Breast cancer is the leading cause of cancer deaths in women, with more than one million cases diagnosed in the world every year. The EU-funded BASIS project has reached a major milestone in characterising the different genetic mutations that lie behind this disease - defining the range of possibilities for drug development.
Thu, 01 Oct 2015 00:00:00 GMT From blue ocean to icy clouds
We know that clouds in the Earth's atmosphere are made of liquid water droplets, ice particles or a mixture of both. Still, our basic understanding on the nature of these ice particles, how they form and their role in climate continue to be poor. The results of Dr Benjamin Murray's ERC research, published today in Nature, add a new piece to the atmospheric puzzle.
Thu, 01 Oct 2015 00:00:00 GMT Researchers discover how genetic mutations rewire cancer cells
An international team of researchers, led by ERC grantee Prof Rune Linding, discovered how genetic cancer mutations attack the networks controlling human cells. This knowledge is critical for the future development of personalized precision cancer treatments.
News
last updated: Sat, 04 Oct 2014 19:14:27 GMT
Thu, 28 Jun 2012 14:30:00 +0200 Nitrogen oxide emissions still a major problem in Europe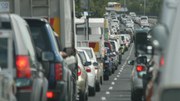 Air pollution emitted from sources such as traffic, industry and households is still above internationally agreed limits in many European countries, according to data published today. The accompanying report from the European Environment Agency (EEA) confirms an initial assessment published earlier this year, showing 12 EU Member States exceeded limits under the National Emissions Ceilings (NEC) Directive in 2010.
Wed, 27 Jun 2012 10:05:00 +0200 Rio+20 agreement - a modest step in the right direction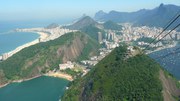 At last week's Earth Summit in Rio de Janeiro, delegates did not agree to any ambitious treaties or deadlines for dealing with pressing issues such as climate change, food and water scarcity. However, there were many positive signs for the future global environment.
Wed, 20 Jun 2012 11:45:00 +0200 New cars sold in 2011 were 3.3 % more fuel efficient than those sold in 2010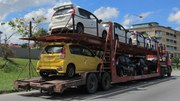 Europeans are buying cars that are more efficient. Average carbon dioxide emissions per kilometre continue to fall in Europe, according to preliminary figures released today. The 2011 data from the European Environment Agency (EEA) also show that car manufacturers are mostly on track to meeting European Union (EU) targets.
Mon, 18 Jun 2012 15:00:00 +0200 Rio+20 – time to rethink the way we use natural resources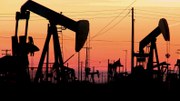 This week the Rio de Janeiro summit on sustainable development will open. Rio+20 is an opportunity to look back at changes in our environment since the first Earth Summit in 1992, and also a time to look to the future, re-evaluating the way our economies and our societies depend on the environment and natural resources.
powered by zFeeder