General European News; »
Fri, 27 Mar 2015 21:27:40 GMT Europe could be drowned in 'worthless pop culture' thanks to EU copyright plans - The Register
Sat, 28 Mar 2015 16:29:11 GMT New Cockpit Rules Follow Flurry of Air-Safety Reviews After Crashes - Wall Street Journal
Fri, 27 Mar 2015 16:13:02 GMT EU plans competition inquiry into e-commerce sector - The Guardian
Wed, 25 Mar 2015 13:45:59 GMT Europe's Groundhog Day: Can the E.U. Break Out of 2011? - Forbes
Fri, 27 Mar 2015 07:47:14 GMT EU companies pledge to shift retrenching investment - EurActiv
Sat, 28 Mar 2015 16:29:40 GMT EU-Ukraine summit to take place on April 27: Poroshenko - The Straits Times
Wed, 25 Mar 2015 13:05:38 GMT Digital Single Market Strategy: European Commission agrees areas for action - EU News
Sat, 28 Mar 2015 15:02:10 GMT European Tech Verticals To Track - TechCrunch

TechCrunch



European Tech Verticals To TrackTechCrunch

Editor's note: Suranga Chandratillake is a general partner at pan-

European

, early-stage venture capital firm Balderton Capital. Ferenc Huszar heads up data science for Balderton, was previously a senior data scientist at PeerIndex and has a PhD in

...
Tue, 24 Mar 2015 15:41:21 GMT Facebook data privacy case opens in European court - Irish Times
Mon, 23 Mar 2015 17:02:31 GMT UK risks economic blow outside EU - Open Europe study - BBC News
euronews
last updated: Sat, 28 Mar 2015 23:26:40 GMT
Sat, 28 Mar 2015 16:44:06 GMT Syria: Idlib 'captured' by Islamist rebels in blow to Assad regime
Islamist groups in Syria including al Qaeda's Nusra Front have reportedly seized the city of Idlib, dealing a huge blow to the Assad regime. Social…
Sat, 28 Mar 2015 16:09:01 GMT Chile: Volcano Villarrica forecast to erupt
Experts predict Chile's Villarrica Volcano will erupt in the near future. Located near to a popular tourist resort some 46 kilometres south of…
Sat, 28 Mar 2015 15:44:07 GMT Earth hour 2015 begins
"Earth hour is sweeping the world":https://www.earthhour.org/. At 8.30pm local time on March 28, 2015, countries in 24 time zones across six…
Sat, 28 Mar 2015 15:44:05 GMT Russia: Nemtsov memorial 'removed'
In Moscow, an impromptu memorial to murdered activist Boris Nemtsov has reportedly been removed. According to reports, a group of men could be seen…
Sat, 28 Mar 2015 15:16:02 GMT Yemen's war of words: Hadi asks Arab League for help in fighting Houthis
The Saudi-led coalition has said "air strikes on…
Sat, 28 Mar 2015 15:00:05 GMT Alpine plane crash: Locals say prayers for Germanwings victims
Local people living near the Alpine crash site where a Germanwings passenger plane carrying 150 people crashed on Tuesday have held a religious…
powered by zFeeder
EU Institutions and Agencies News; »
Fri, 27 Mar 2015 11:27:00 GMT Article - Summer time: all you need to know to make your life easier
General : EU countries switch to summer time every year, as they will do this Sunday., but what are the benefits and are there any drawbacks? These and other questions were discussed by MEPs and experts on 24 March. "We need to move forward with this legislation and giving an oral question to the European Commission could be one of the ways to accelerate the whole thing," said Czech EPP member Pavel Svoboda, chair of the legal affairs committee, summing up the discussion.

Source : © European Union, 2015 - EP
Fri, 27 Mar 2015 08:59:00 GMT Article - Mukwege: "Whenever there is evil, society must mobilise to fight it"
General : "When I look ahead to the future of Congo, I can't picture it without these women activists, who have suffered atrocities," said Dr Denis Mukwege during a visit to Parliament on 26 March. The 2014 Sakharov Prize Winner, who treats victims of sexual violence in DR Congo, discussed his country's future as well as violence against women with the human rights subcommittee. He also called for Congolese unity: "Whenever there is evil in society, that society must mobilise to fight it."

Source : © European Union, 2015 - EP
Fri, 27 Mar 2015 11:00:00 +0100 EU's top trading partners in 2014: the United States for exports, China for imports
In 2014, the United States (€515.6 bn, or 15% of total EU trade in goods) and China (€467.3 bn, or 14%) continued to be the two main goods trading partners of the European Union (EU), well ahead of Russia (€285.1 bn, or 8%) and Switzerland (€236.9 bn, or 7%).
Thu, 26 Mar 2015 11:00:00 +0100 Each person in the EU generated 481 kg of municipal waste in 2013
In the European Union (EU), the amount of municipal waste generated per person in 2013 amounted to 481 kg, down by 8.7% compared with its peak of 527 kg per person in 2002. Since 2007, the generation of municipal waste per person has constantly decreased in the EU to below its mid-1990s level.
Fri, 20 Mar 2015 11:00:00 +0100 EU28 current account surplus €15.8 bn
The EU28 seasonally adjusted external current account recorded a surplus of €15.8 billion in January 2015, compared with a surplus of €13.1 bn in December 2014 and a surplus of €6.4 bn in January 2014, according to estimates from Eurostat, the statistical office of the European Union.
Fri, 20 Mar 2015 11:00:00 +0100 The number of asylum applicants in the EU jumped to more than 625 000 in 2014
Over a year, the number of asylum applicants registered in the European Union (EU) has increased by 191 000 (+44%) to reach a peak of 626 000 in 2014. In particular, the number of Syrians rose by 72 000, from 50 000 in 2013 to almost 123 000 in 2014.
Thu, 26 Mar 2015 18:00:00 UT Dark matter even darker than once thought - Hubble explores the dark side of cosmic collisions [heic1506]
Astronomers using observations from the NASA/ESA Hubble Space Telescope and NASA's Chandra X-ray Observatory have studied how dark matter in clusters of galaxies behaves when the clusters collide. The results, published in the journal Science on 27 March 2015, show that dark matter interacts with itself even less than previously thought, and narrow down the options for what this mysterious substance might be.
Wed, 25 Mar 2015 18:00:00 UT How black holes clear galaxies of star-making gas
Astronomers have found proof that the strong winds blown by a supermassive black hole are dispersing the gas reservoir of its host galaxy. The new finding relies on the observation of two related phenomena in the same galaxy: a large-scale galactic outflow, seen by ESA's Herschel space observatory, and a black-hole driven wind at the galaxy's core, detected with the Japanese/US Suzaku X-ray observatory. By showing how the black hole wind is in fact driving the gas outflow that affects the entire galaxy, the discovery demonstrates the key role played by black holes in regulating the formation of stars in their host galaxies.
Thu, 19 Mar 2015 19:00:00 UT Rosetta makes first detection of molecular nitrogen at a comet
ESA's Rosetta spacecraft has made the first measurement of molecular nitrogen at a comet, providing clues about the temperature environment in which Comet 67P/Churyumov-Gerasimenko formed.
Thu, 12 Mar 2015 14:49:00 UT Symposium announcement: Exploring the Universe with JWST
The 49th ESLAB symposium will be an international meeting dedicated to the presentation and discussion of future scientific research that will be enabled by the James Webb Space Telescope. This "Exploring the Universe with JWST" symposium will be held at the European Space Agency's technical centre (ESTEC), 12-16 October 2015.
Fri, 27 Mar 2015 00:00:00 GMT New sensor system sniffs out mycotoxins in wheat
Mycotoxins - produced by fungi - contaminate about 25% of food crops worldwide, according to the latest estimates. Detecting contamination quickly and reliably is essential for food safety, as mycotoxins could be transferred to bread, for instance, making it unsafe to eat. The MYCOHUNT project developed a system that can sniff out mycotoxins almost immediately. It is expected to be on the market within two years.
Thu, 26 Mar 2015 00:00:00 GMT How microorganisms can help hold up bridges
An eco-friendly method of preventing corrosion in major infrastructure could help reduce environmental pollution, protect maintenance workers and save Europe billions of euro in repairs.
Wed, 25 Mar 2015 00:00:00 GMT A big booster for vaccine development
An EU-funded project has accelerated the development of vaccines for diseases such as Lyme disease, malaria, tuberculosis, dengue, influenza, mumps, whooping cough, pneumonia, HIV, and two types of cancer. Their work could lead to new, more effective vaccines - potentially saving millions of people from disease.
Tue, 24 Mar 2015 00:00:00 GMT Building the planes (and maybe lowering the air fares) of the future
Intelligent, extremely tough and ultralight; these are the anticipated characteristics of the materials that will be used to build planes of the future. At Lublin University of Technology in eastern Poland, researchers are working on making those materials a reality of today.
News
last updated: Sat, 04 Oct 2014 19:14:27 GMT
Thu, 28 Jun 2012 14:30:00 +0200 Nitrogen oxide emissions still a major problem in Europe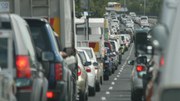 Air pollution emitted from sources such as traffic, industry and households is still above internationally agreed limits in many European countries, according to data published today. The accompanying report from the European Environment Agency (EEA) confirms an initial assessment published earlier this year, showing 12 EU Member States exceeded limits under the National Emissions Ceilings (NEC) Directive in 2010.
Wed, 27 Jun 2012 10:05:00 +0200 Rio+20 agreement - a modest step in the right direction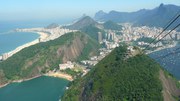 At last week's Earth Summit in Rio de Janeiro, delegates did not agree to any ambitious treaties or deadlines for dealing with pressing issues such as climate change, food and water scarcity. However, there were many positive signs for the future global environment.
Wed, 20 Jun 2012 11:45:00 +0200 New cars sold in 2011 were 3.3 % more fuel efficient than those sold in 2010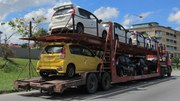 Europeans are buying cars that are more efficient. Average carbon dioxide emissions per kilometre continue to fall in Europe, according to preliminary figures released today. The 2011 data from the European Environment Agency (EEA) also show that car manufacturers are mostly on track to meeting European Union (EU) targets.
Mon, 18 Jun 2012 15:00:00 +0200 Rio+20 – time to rethink the way we use natural resources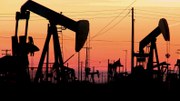 This week the Rio de Janeiro summit on sustainable development will open. Rio+20 is an opportunity to look back at changes in our environment since the first Earth Summit in 1992, and also a time to look to the future, re-evaluating the way our economies and our societies depend on the environment and natural resources.
powered by zFeeder